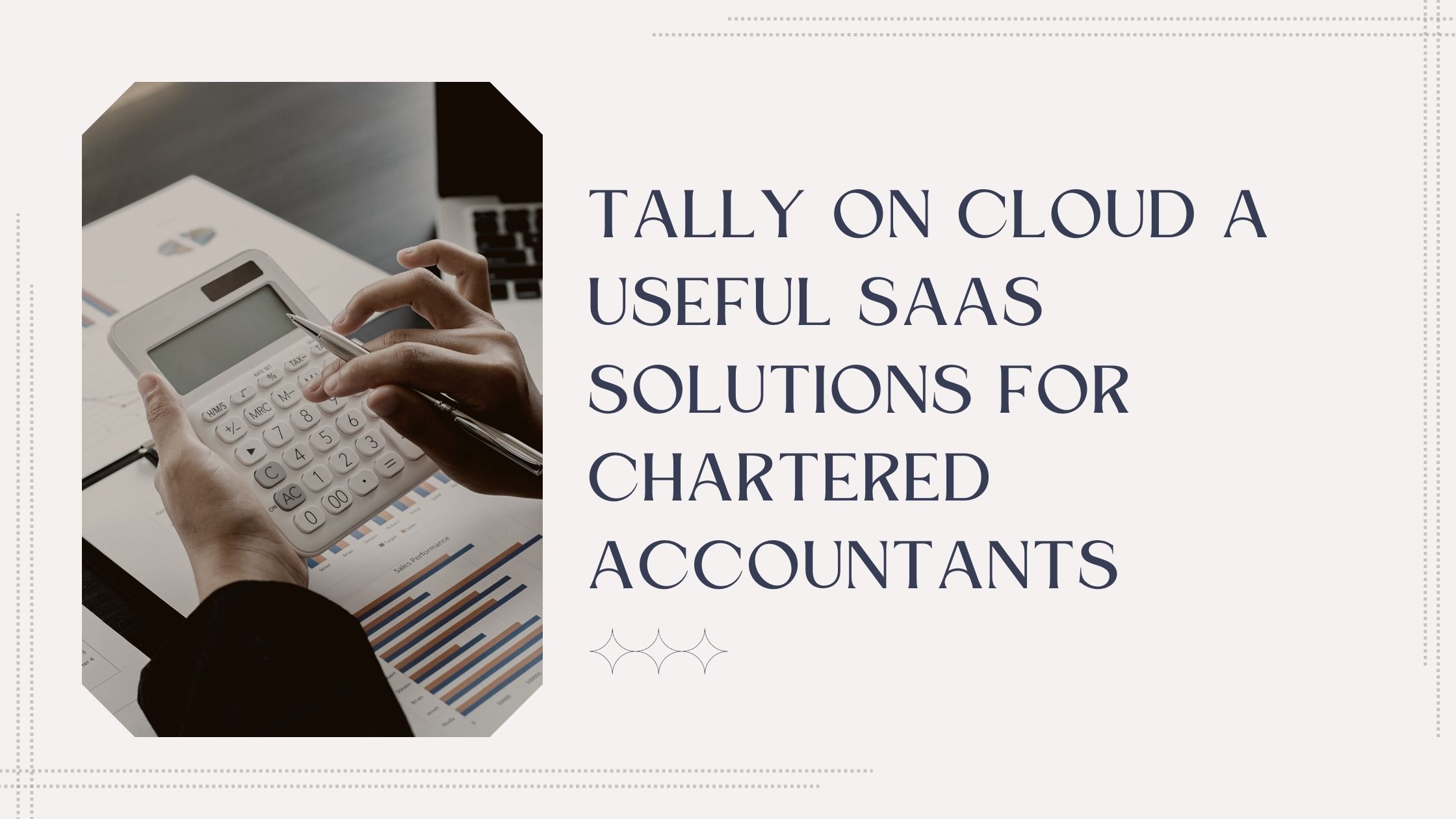 Tally On Cloud a Useful SAAS Solutions for Chartered Accountants
Tally On Cloud A Useful SAAS Solutions For Chartered Accountants
It has been considered that Tally on Cloud is a stable solution for Chartered Accountants. It is very convenient as you will not have to buy any software. Also, you will be allowed to use the services of the same wherever you might be. That means your location isn't very important. But now you will be wondering why the Tally on cloud solution has been introduced to the CAs out there, right? We do have reasons for this. Let us explore them in brief as mentioned below.
Why is Tally on Cloud a useful SAAS solution for Chartered Accountants?
There is a huge possibility of multi organizing collaborating with different data
You will get unlimited recovery of your files and version history
You can get access and work on your mobile device, MAC, PC without any hassle!
Even with a slow internet connection, you can get access from any computer
The access levels are fully customizable to the user or the admin
Centralization of the data – you can get access right from the account of the administrator from a various location with respect to all the data worked
The enterprise's security is given a considerable amount of attention as well
The total cost of production is reduced because the client doesn't have to deal with anything
What other advantages does Tally on Cloud has to offer?
Well, if you opt for tally cloud accounting software, your business will have multiple other perks as well. If you are wondering what that could be, we will give you an overview of it.
The capabilities of the user will be limited only by the availability of internet access.
If you have a larger number of remote employees then you can easily get their work organized.
The tasks will be processed on the cloud which means it will be done on very powerful and trustworthy hardware. The user station requirements are not relevant.
All of the required support will be provided by the team – so, there is no need for you to go and get the software updated, clear or get the server repaired.
For your in-house office computer system, there will be no requirement of debugging the software and technical part of it. All you got to do is place an order from the official website and then you can easily set up the completed server of Tally on Cloud.
If you have a company that isn't very big then instead of making purchases for your infrastructure you can always rent it from the company – saving a lot of your money in the bargain!
Tally cloud platforms are beneficial as they open newer opportunities for work that is being distributed through an infrastructure that is convenient and cheap. Also, servicing different clients with just one handy application tends to be a profitable direction for the development of IT. apart from this, the customer support will be available 24/7 and they also offer quick troubleshooting to all their customers out there.
To know more about Tally on Cloud contact us.
Check Out More Tally Related Blogs: