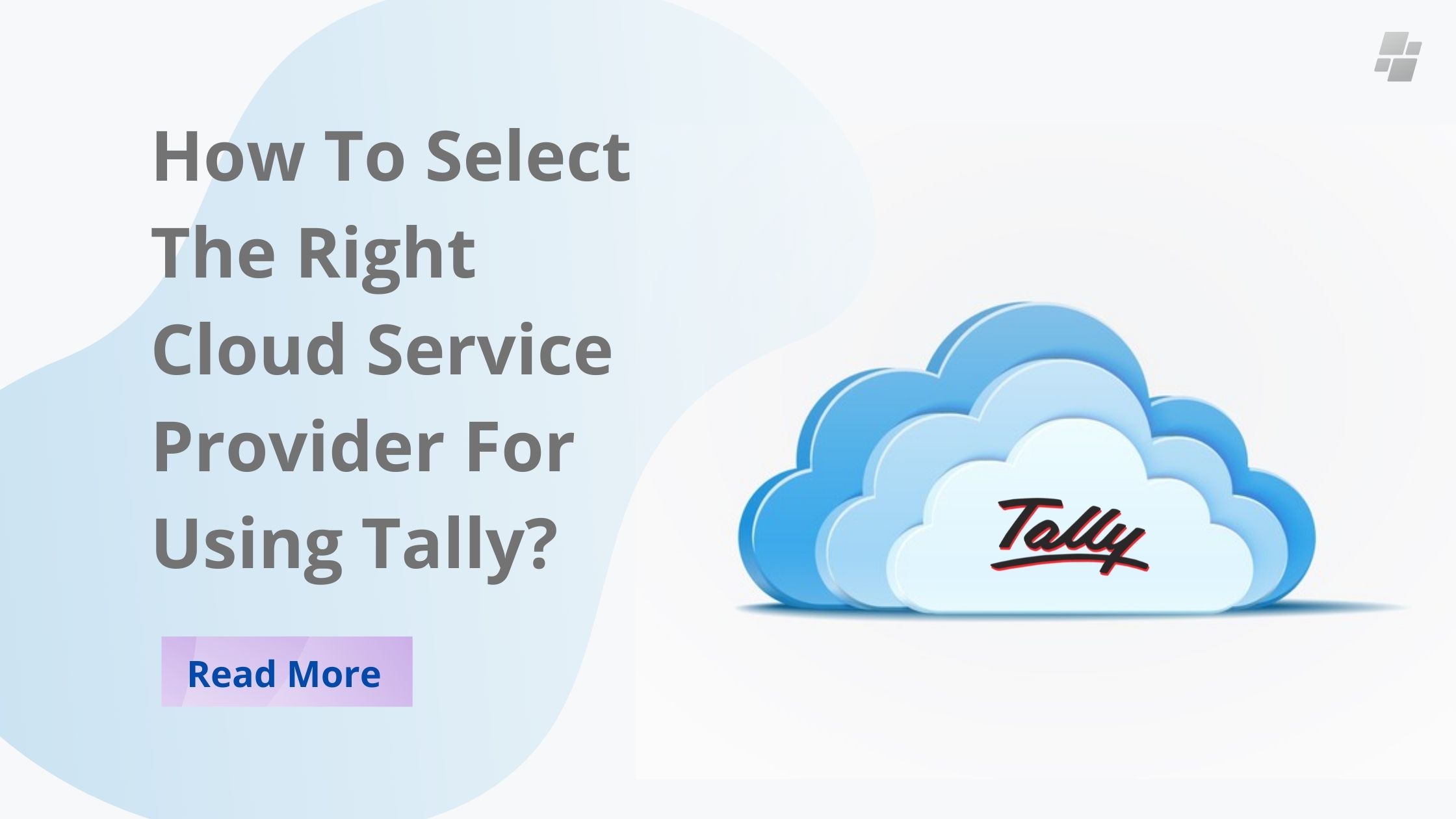 How To Select The Right Cloud Service Provider For Using Tally?
Cloud Service for maximizing business productivity
Modern-day business is a very competitive field, and using the latest technology for your business needs will keep you at the forefront of the race. The unique services provided by cloud computing can effectively minimize your workload and maximize your efficiency. A few benefits of cloud computing are given below:
• A safe and secure way to a more organized data
• You can easily migrate data, workloads, and IT resources to a cloud infrastructure
• Connect with your workforce in a more efficient way
• An affordable solution
• More flexible and efficient
• No more disasters
• Gets easier to manage a large amount of data.
Cloud services can help your business by providing you with the most innovative tools to efficiently manage your workload and financial data and safeguard it from disasters.
The internet plays a very crucial role in our everyday lives. Be it at the workplace or home, and it has managed to bring us the technology to the place where we need it the most. Cloud computing is an on-demand service that allows the users to use the cloud service providers to store data and other computing facilities on the internet through the use and pay process.
Cloud resources like virtual servers, application tools, networking capabilities, and lots more are available to the user through the internet. Though the concept of the cloud is virtual, the cloud infrastructure runs with the help of a combination of physical hardware that is placed in different geographical locations. The hardware includes switches, routers, firewalls, load balancers, storage arrays, backup devices, and servers.
Why are cloud services successful worldwide?
Cloud computing has been used successfully throughout the world by various business organizations. The benefits of cloud technology have become more evident in this digital era as data usage is becoming more and more important. In fact, without us realizing it, we are using cloud technology in our day-to-day operations.
Gmail, Google Drive, multimedia platforms like Facebook, Instagram, etc., are cloud-based. Technology has always come up with digital innovations that have given simple solutions to many complicated issues. Cloud computing is a simple solution to your otherwise complicated business problems. 
A good cloud strategy is very important for a smooth transition from ground-based data centers to the cloud. If you need your IT organization to be successful, it is always a good idea to develop a well-communicated strategy that can make your transition worth the effort.
What are the ways of cloud service users can adopt?
The on-demand service of delivering IT resources through the internet is called cloud computing. Cloud computing has three service options:
• Infrastructure as a service (IaaS)
• Platform as a service(PaaS)
• Software as a service (SaaS)
Users can adopt IaaS and PaaS from top public cloud service providers and use them for their computing needs. They are provided on demand and can be paid as you use them. Private cloud facilities have been gaining a lot of importance lately and mainly because of the benefits they provide to the users. 
The application security provided by the private cloud is far more secure than the public cloud. So choosing a private cloud is always a better choice if you are looking for some extra security and privacy of data. The Cloud infrastructure, whether hardware or software, helps you deliver your cloud services without any complications so that all your data and workload are handled smoothly. 
Sometimes on-premise cloud infrastructure can also be used by clients to keep their more accessed data in their premises but with the help of cloud computing, but this type of cloud computing usually lacks some of the beneficial aspects of cloud computing.
What must businesses consider while choosing a cloud service?
As more and more businesses are moving towards cloud computing, there are certain things you need to consider before you opt for cloud computing services. Though cloud computing may be the most talked about in the business field, no business needs to go for it without considering certain facts. After scrutinizing business requirements, you should make the most necessary choice and opt for the best cloud service apt for your business needs. Here are a few things you need to consider before you opt for a cloud service:
This is the main reason why many business owners take a back step when considering cloud computing. The thought of giving your private data to a third person is not welcoming. So the first thing you should look for when choosing a cloud service is whether your data is secure with the cloud service provider. Make sure they have the necessary safety pieces of equipment to keep your data safe. Microsoft Azure and GCP have better Granular security control than other cloud providers. Data localization is an important aspect while you look for a good cloud service provider.
•

Total cost of ownership (TCO)
If you opt for a cloud computing service provider, then calculating the costs of ownership of the hardware and software can be very complicated. Each service provider offers diverse discounting strategies. It is better to clear everything before you opt for a particular provider.
•

Partnerships and integrations
Various services like system integrators, support services, and marketplace vendors are a part of the ecosystem that helps cloud service providers run cloud computing efficiently. They together help data migration, deployment and ensure the smooth running of the cloud service. Make sure that you check the best partnership so that it can offer you the best benefit.
What advantages cloud service offers that organizations cannot avoid?
With cloud computing getting more and more popular, it has become the newest trend in the business world. The services like IaaS, PaaS, and SaaS can help in managing your data without any complications. Many cloud-based tools have many beneficial aspects that your business needs to make use of. Cloud computing has come a long way from traditional on-premises computing systems.
Today's business organizations have been interested in using this service for a lot of reasons. System configurations needed for cloud computing varies according to the business needs. Ensure that the cloud service provider has efficient backup dataso that you can easily access your data whenever there is a system failure of anything of the sort.
How does Tally on Cloud contribute to improving your business?
Affordable for your business
Tally cloud is not just effective on small businesses rather it is also suitable for multi-branch businesses who want a centralized tally, which can easily be accessed from any PC, using any operating system from any location. It is effective and suitable for your budget. Service providers even offer monthly plans to suit your needs as per the business size.
It grows with your business. It saves you money as with the help of this service there is no need to purchase server, hardware, and software. All you need to have a license for the tally. With the help of tally online, you can easily run the ERP system anywhere. It is an easy, efficient and secure way to use tally from anywhere. 
Suitable for both small and medium-size businesses
Starting a business can be hectic and maintaining servers can be a more difficult job. If you are new in the market and starting a business, to save business cost you must go for a tally cloud as it is suitable for you at an affordable price. After the installation of the service, you don't have to keep the headache of maintaining servers. It is quite versatile and has gained popularity between both small and medium-sized businesses.
How to choose a Cloud service for Tally ERP?
• Competition is increasing with time, not just the business competitors are getting more indulged in the competition but service providers are also increasing with time.
• It becomes slightly difficult to choose between the websites.
• You must go for an application or service which fulfills your business need completely and has necessary features that can help and enhance the business.
• You must choose a service that provides tally remote access which can help you to access anytime and anywhere.
It allows users to access the data more conveniently. 
Tally on the cloud will provide your data as well as Tally in the SaaS model. More and more businesses are using Tally solutions cloud-based for keeping their data and Tally easily accessible. Businesses can run more efficiently with Tally ERP and when it comes to cloud web Tally has many benefits that the user can use once he decides on which service provider he needs to accommodate. Many cloud providers will also offer the benefit of Tally on cloud multi-user, enabling multiple users to log into the cloud and work on it simultaneously.
Tally on Cloud for Mac becomes completely easy because the cloud service provider like Tallycloudhub will provide you with the entire infrastructure needed for any operating system to access tally from any device.
Why organizations prefer Cloud over Traditional on-premises solutions?
Many business organizations are switching over to the cloud as it offers many advantages that traditional on-premises cannot compete with. The cloud is more flexible, reliable, and secure, and also you don't have to upgrade it or maintain it constantly. You have a secure and efficient platform for storing your data and working on it from any device and anywhere.
What are the uses of cloud computing?
The new digital world is welcoming cloud computing with open arms, and the reasons for this are the amazing benefits it has to offer to its users:
• Cloud computing can help any business organization store, backup, and recovery data without any complications
It can help create new apps and other services
• You can easily host websites and blogs
• Video and audio can be streamed without any difficulty
• It delivers software on demand
• It allows you to make predictions
Many organizations are switching over to the cloud from startups to government institutions because of the benefits. The Cloud Service Providers make sure that every user gets the best and hassle-free service to run their business efficiently and smoothly.