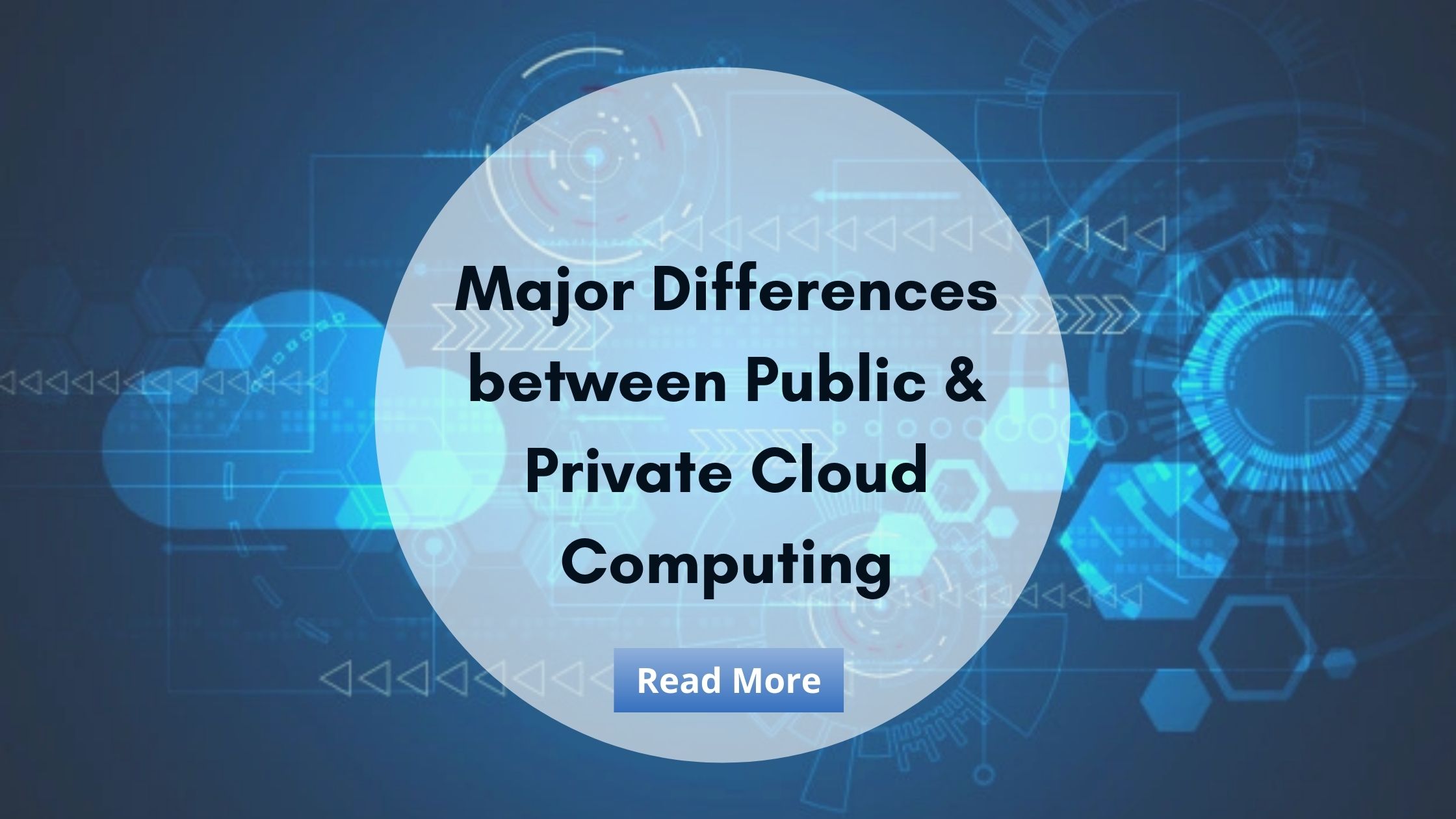 Major Differences between Public and Private Cloud Computing
Public Cloud Computing vs Private Cloud Computing
These cloud computing services are based on their users and the resources shared. Let's better understand Public and Private Cloud Computing with their pros and cons.
Cloud Computing has been on the verge in today's generation and for the need of today's generation. With almost everything going online and digital, cloud computing is playing a major role in achieving the online storage and networking requirements of the Businesses. Cloud Computing has initiated the most convenient movement of data and the most secure way of storing data virtually through online storage services.
Cloud Computing is worked out by cloud service providers who host multiple client's data and other resources or may be individual client's data and resources virtually on their secured Cloud server. This data stored virtually on the cloud server becomes feasible to access from anywhere and anytime using any device.
The Two Types of Cloud Computing are –
Public Cloud Computing
Private Cloud Computing
What is Public Cloud Computing?
A public cloud hosting provider avails a physical server network through virtual machines, applications, or storage that could be accessed remotely. In Public cloud computing, one physical server is shared with multiple clients for hosting storage. One server resource is shared with multiple clients.
• Pros of Public Cloud Computing
1. Cheap Pricing or cost:
As one server and its resources are shared among multiple users, the users just have to pay for the part of the resources assigned to them. This breaks out its pricing or cost.
2. Scalable:
Usage of resources can be increased if allowed by the public cloud service provider.
3. Reliable:
Public cloud service Providers mostly have multiple servers to function. So, if a server fails or overloads, they can still draw resources from other servers.
• Cons of Public Cloud Computing
1. Shared Resources:
As the resources are shared among multiple users, you are bound with limitations and can also witness effects in your functioning due to other user's activities.
2. Security Issue:
As multiple users perform different uses through their part of resources, the other users get vulnerable to the activities performed by other users as well. This might sometimes lead to data losses and other malicious attacks.
What is Private Cloud Computing?
Private Cloud computing provides the same services as it does through public cloud computing but the amount of user here vary. Private cloud hosting providers offer their cloud hosting services to only one entity, organization, or Individual. Unlike public cloud computing, there are no multiple users hosted on one cloud server.
There can be 2 ways of Private Cloud Computing – Internal/In-house house or Third-Party hosting.
• Pros of Private Cloud Computing
1. Reliability and Security:
With Private Cloud computing comes security as no other user's activities exist which could affect your cloud server activities.
2. Customizability:
With control over all the resources, the user can customize, upgrade, and expand each and every resource of the server as per their requirements.
3. Performance:
Private cloud computing brings high-end performance and speed as a user gets the power of all the resources backing their storage.
• Cons of Private Cloud Computing
1. High Pricings or cost:
As in Private cloud computing, you are allotted a whole server and its resources, all of its prices have to be bearded.
2. High Maintenance :
With high resources comes to a high responsibility for maintenance. If managed in-house, the users will have to invest in maintaining the environment, Hardware, thermodynamics, etc.
All in All, cloud computing could be very beneficial if used Private or even Public. It majorly depends on your budget and the performance you are looking for. Cloud computing has also made Tally efficient for recording and reporting from anywhere, anytime, and any device access. To avail of a Free Live Demo and the best offers of Tally on Cloud, contact TallyCloudHub today!
What are the benefits of Cloud Computing Service for business?
Cloud Computing offers a lot of benefits to your organization. It allows you the versatility to connect and communicate with your organization from anywhere at any time. There are multiple advantages, such as helping to improve cash flow, increasing productivity, and many others. Let's try to understand some of the benefits of Cloud Computing that the user would be getting:
Cost Saving on capital expenditure
Security from all potential threats
Scalability of Resources & Infrastructure
Security for the Network Edge
Absolute Redundancy
How does Cloud Computing function?
Rather than owning computing systems or data centers, businesses can lease access to apps, storage, or anything they need. By working on cloud computing, companies may escape the upfront cost and difficulty of managing their own IT resources.
Rather, the user only pays for whatever services they use whenever they use them. Cloud computing services providers benefit from large economies of scale by providing the same services to a broad range of clients.