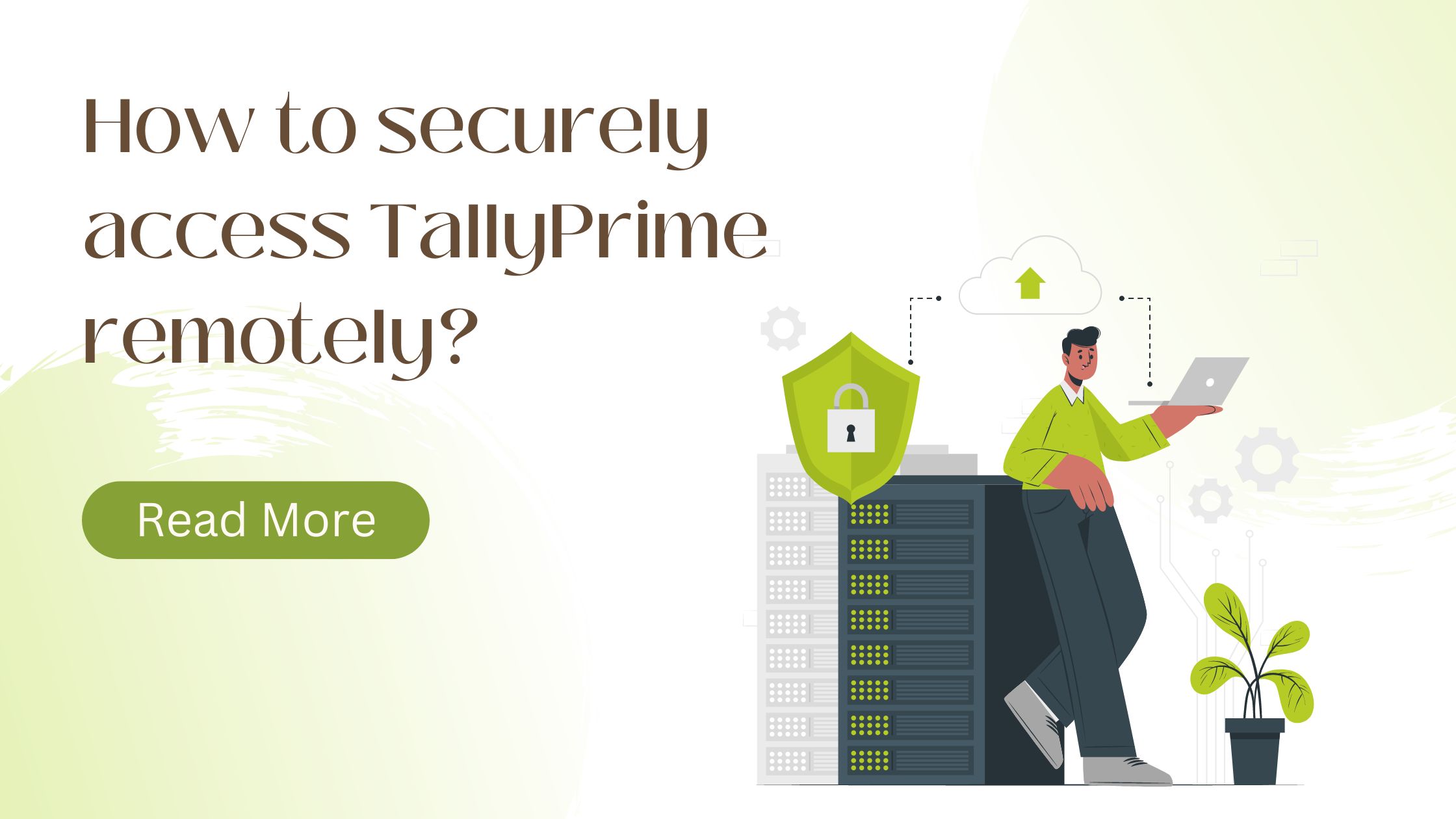 How to securely access TallyPrime remotely?
Access TallyPrime Remotely:
Tallyprime remote access? You can securely access TallyPrime from anywhere for transactions or view reports when working from home, office, or other remote locations. All you need in a remote location is to install TallyPrime and an active internet connection.
You must have a valid TallyPrime license, active TSS, and an internet connection. Your company is connected to the Tally.NET service, the server, and the Tallyprime accounting software version. You can get benefits from Tally ERP on Cloud.
Tally on Cloud or upgrade to Tallyprime on Cloud work from home or office suppose your employees are at the customer's location. They can view the stock and set delivery dates for customers or check pending accounts receivable from customers to ensure the latest details are available.
What is Tally Prime Remote Access?
• With amazing features & shortcut keys in Tallyprime, anyone with a valid license for an active TSS server (Tally Software Services) and an internet connection can easily access it.
• To access TallyPrime from anywhere to record transactions or view reports to work remotely, you must create a Tally.NET ID for the user.
• Employees with the necessary permissions can save/edit vouchers, verify accounts, and print reports and vouchers with Tallyprime remote access. So, it provides complete control.
• Users can virtually access Tally ERP via Cloud technology on Mobile, browsers, any device, and at any time.
Features of Tallyprime to protect Tally Data when working on Tally remotely:
Tally prime new features are given by:
• User Activity Management:
Managing user activity is essential to improving the overall efficiency of a business. In the case of Tally multiple users, errors may occur repeatedly and make the company lose. One way you can avoid the multi-user problem in Tally software is to use the outstanding feature of Tallyprime, allowing you to control the activities. It also tracks everything from creation to editing and deletion. It also helps to minimize errors.
• Set Access Rights for Different Users:
Tally prime software data and reports are vital. Tally ERP 9 contains essential information about your customers, stocks, cash/bank details, owner credentials, etc. It may seem challenging to rely on a work-from-home environment with such confidential information.
You can set access to the authorized Tally users. Tally prime data on Cloud is the only secure way users can work from home with Tally and keep their Tally data safe. Tallyprime on Cloud facilitates an auto backup facility to continuously back up your Tally data with security from data loss and theft.
One of the significant challenges faced by working from home is working with different departments and getting a signature from the authorized person in the organization without wasting much time. One way to do this is to ensure that the Digital Signature Module is in Tally.
A digital signature guarantees the authenticity of the document as well as saves a lot of waiting time. It is essential for employees who work from home. So, TallyPrime digital signature feature in businesses can ensure high performance with high data security.
• Record or Alter Vouchers:
In work-from-home situations, it can be challenging to control user activity. You can set Advanced Voucher Type Level Security in the TallyPrime company. It will allow you to assign specific permissions to all users to create or alter vouchers. Users will not be able to view any information besides part of their assigned rights. This ensures that the data is secure and is used only following the role of the individual.
Another essential feature to protect your Tally data when working from home is backing up your daily data will ensure that in the event of a hard drive crash or a virus attack. You will be able to quickly restore your company's data with the help of Tally.NET ID. Here, you can remotely access Tally Prime on Cloud which will allow you to continue backing up your Tally data guarding it against ransomware. 
Why use the Tally on Cloud solution for Tally prime remote access?
• While traveling or working from home, you can use the Tally on Cloud solution to access TallyPrime from anywhere.
• There is no reliance on place, time, or people. 
• Hosting Tally prime on Cloud gives the flexibility to access Tally from home with the same centralized data as other users.
• You can seamlessly upload your existing data to the virtual cloud environment and keep using the same.
• There is no need to be concerned about maintaining hardware and software, as well as centralized data.
• There are no issues with weak performance, data corruption, data rewriting, or running out of memory.
• There is no chance of data loss due to a computer crash or system failure.
Tally prime on Cloud Features:
You can easily access Tallyprime when working from home. The features of Tally prime on Cloud are:
Tally Prime on Cloud is more beneficial for the remote access process. You can transfer your Tally data securely. You can create user access permissions to access your secured data.
•

Anywhere, Any TallyPrime on Cloud:
You can access Tallyprime on Cloud anywhere and at any time. You can access TallyPrime on Cloud easily and get real-time data.
•

Report Access Management:
Tally on Cloud feature makes it one of the most adaptive inventory management systems. You can easily access reports remotely from your home as well as anywhere anytime on any device.
•

Backup Your Tally Data:
Tally data on Cloud is helpful in real-time synchronization. One of the vital features of Tallyprime is Auto backup for Tallyprime data.
•

Print Reports and Vouchers:
Using Tally on Cloud users can print remotely. The Cloud-based Tally prime reports give you exact information without any error. Tally data remote printing is a top-notch feature.
You can access Tallyprime on Cloud with the help of the Tally.NET ID. The setup of Tally prime on Cloud is relatively easy, and you can run Tally prime remotely 24*7.
Tally Prime is an ERP platform that can complement any business configuration, no matter how large or small. We offers a variety of Tally Cloud customized solutions for your business. Tally Prime software complies with Tally GST requirements for business convenience.
By default, Tally cannot be accessed from multiple locations, however Tally Prime on Cloud enables you to access all Tally data from all branches from any place at any time. Tally on Cloud is useful for Chartered Accountants, Business owners, and other users. Any Tally user can benefit from the flawless work experiences of Tally prime on Cloud. For any Tally on Cloud inquiry or Free expert demo visit Tallycloudhub.com.
What is required to access TallyPrime remotely?
If you want to access TallyPrime remotely, you will need two essential things. They are:
• Valid license, an active TSS (Tally Software Services)
• Internet connection
Which is the minimum Internet speed recommended for Remote access?
The internet speed is recommended for remote access is a minimum of 3G.