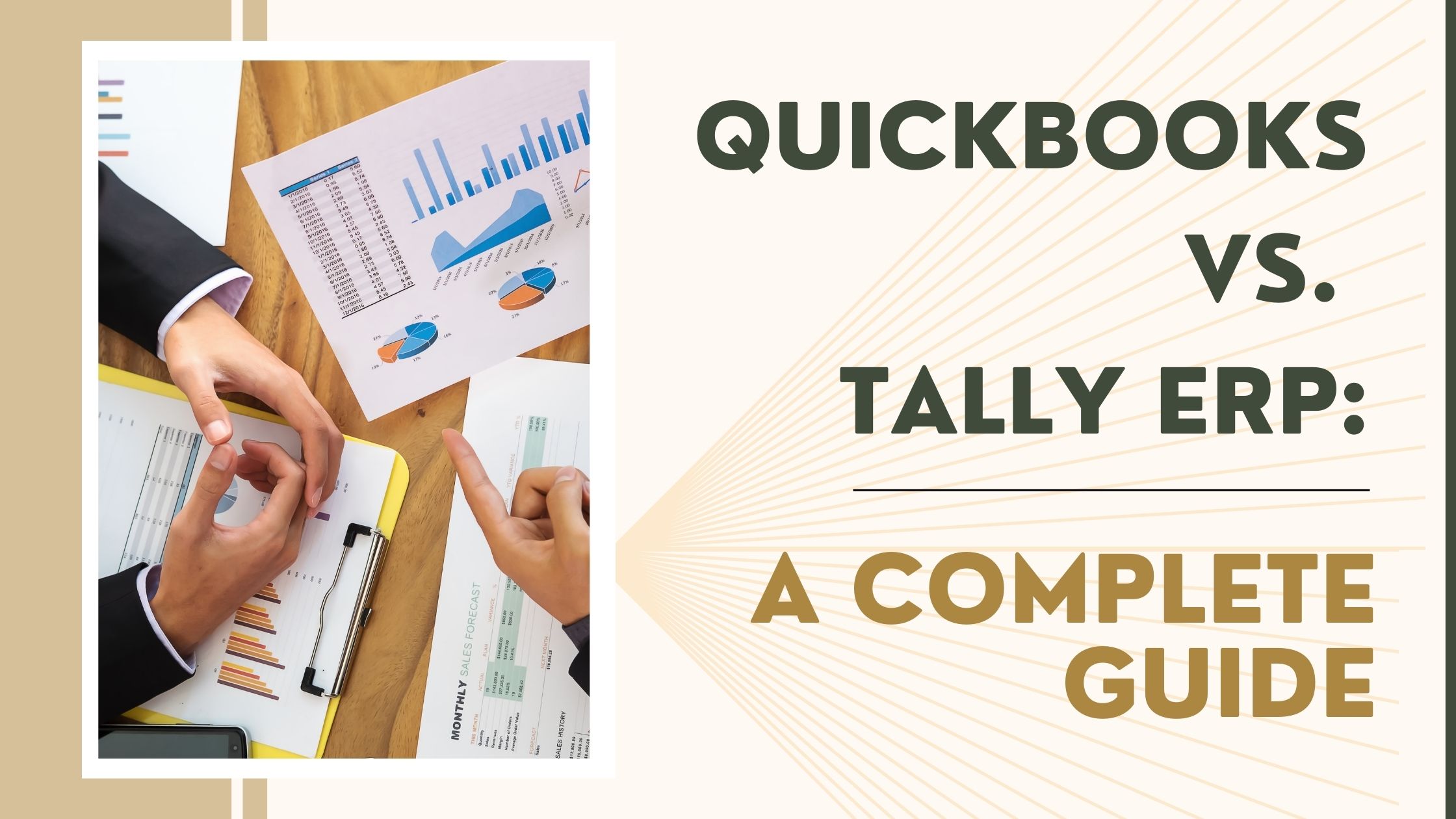 Why choose Tally ERP accounting software over QuickBooks?
Tally is the famous accounting software, an Enterprise resource planning used globally and it is ultimately used for enterprise software from small to large-scale businesses. However, it is used for perfect business management solutions. 
QuickBooks accounting software is also meant for business account management developed by intuit corporate company. It is mainly renowned among small to medium size businesses.
Why Tally ERP is the best accounting software? Tally ERP accounting software was developed in 2009. Tally is used in 100 countries with two million customers. Tally accounting software offers maximum features including GST. Host Tally ERP on Cloud for accessing Tally software information from anywhere & is suitable for small to large businesses.
Both QuickBooks and Tally ERP is the account management software. What is the difference between QuickBooks and Tally ERP? Keep reading to learn more about Tally vs QuickBooks.
QuickBooks vs Tally ERP: An Overall Summary
Both the software is used for financial account management, each comes with different management features. QuickBooks is the alternative to Tally accounting software. So, which accounting software to choose any Tally or Tally prime vs QuickBooks? Accounting software Tally and QuickBooks both deliver cloud-based operations. So, it is QuickBooks vs Tally ERP 9.
What is QuickBooks

Accounting Software

?
QuickBooks accounting software was launched in 1998 by Intuit. This software plays a huge role and has become a practical application for account management, with more than eight percent of the market share. QuickBooks performs different multi-function either managing the income or keeping track the business finance. Ideal software for small enterprises, independent contractors, and freelancers. 
Key Features of 
QuickBooks
QuickBooks is accounting software that holds most of the business needs. Let's see some features of QuickBooks:
• Real-time view of Information:
QuickBooks software has time tracking features that allow you to follow quickly and work anywhere online from any device. It comes with business views and account views and can be easily switched between any time. 
Understanding accounting software might be one of the biggest challenges. Accounting software like QuickBooks is effortless to use and manage. It assists you in keeping a record of financial transactions such as sales, income, payroll, daily expenses,  budgeting, etc.
QuickBooks software has different plans as per the business requirements. All the features are easy to use. Mainly it is an easy-to-understand user interface.
The benefit of QuickBooks is that reports can be generated without the data being sent to an excel sheet. You may automatically create reports like balance sheets, cash flow statements, and profit and loss statements using QuickBooks' unique report menu. If you need anything more, you can perform manual work.
QuickBooks accounting software has organized and tracked the accounting data and provided cash flow statements, and it gives a proper schedule for recurring payments. It forecasts the cash flow of the ins and outs. 
• 

Free Unlimited Support:
QuickBooks accounting software provides a free trial. You can contact support at any time if you feel lost or puzzled, and they will assist you.
What is Tally Accounting Software?
What is accounting software Tally? A comprehensive solution of Tally ERP is a powerful business accounting software, which can be driven by multi-lingual accelerated technology. So it is the perfect business solution with complete list of Tally shortcut keys and Tally GST software. Tally is used by 2+ million businesses. It is multi-functional accounting software. Advantages of Tally ERP increases productivity by 10x when hosted on Cloud.
Key Features of Tally ERP accounting software
Tally software for accounting offers these features:
•

Invoicing and accounting:
The invoicing and accounting of the document have been maintained in the Tally ERP 9 supports & offer flexible customization features. Tally accounting software is accessible for multiple billing formats, price levels, and currencies.
Access & analysis various accounting reports in Tally & other reports include inventory, finance, management control reports (MIS), and tax. Benefits of Tally accounting to analyze the business performance metrics over the years for accurate business decisions.
Tally supports trading inventory & is effortless to track, forecast, and control stock movements and optimize the level of inventory. Managing the inventory in Tally ERP accounting software to ensure uninterrupted production and sales, reduce inventory handling costs, and manage multiple functions. 
Individual Bill Tracking:
Tally accounting software allows you to track the trading and non-trading accounts bills. In the Tally ERP system, the tracking number has to refer to the link between the transactions; thus, the track of the bill can be selected in the delivery note after this automatically displays the sales invoice. 
• 

Auditing, Budgeting & Controlling:
It is one of the Tally ERP feature providing accurate Information for the evaluation of financial activities, and one can modify it if required at any point. Tally has superior audit capabilities that ensure the user has unlimited periods and budgets.
• 

Tally supports multiple currencies:
In the Tally ERP makes it easy to manage several currencies across the globe. Businesses often operate in multiple currencies around the world. It makes it hard to maintain track of business activities, Tally can undoubtedly help you sort.
Difference Between Tally and QuickBooks:
QuickBooks vs Tally accounting software can be used for business account management. As you can notice, there are numerous differences between Tally accounting software and QuickBooks accounting software.
This is a significant distinction between Tally or QuickBooks. QuickBooks aims to serve startups, small enterprises, and independent workers. On the other hand, Tally is best suitable for all sizes of business.
QuickBooks permits a maximum of 25 users per organization. Tally has no limit on the number of users that can be added.
Customers can access web platforms for both. QuickBooks & Tally on Web. Disadvantages of Tally ERP is that it cannot be accessed directly on Mac OS. But via Cloud technology, Tally data can be accessed remotely on Whatsapp. Tally on Mac OS or Tally on Mobile is also possible
QuickBooks is great for firms that require bookkeeping services because it is its primary focus. Tally goes a step further and also concentrates on business management and advanced inventory control.
QuickBooks connects to programs, including various e-commerce platforms. Tally ERP 9 can integrate with a Web Application with the help of any third party.
QuickBooks is easy to use, simple, and suitable for individuals without a background in accounting. Tally ERP on Cloud can be accessed by a layman & users around the organization can interact with the real-time data as it offers simple accessibility from any device anywhere.
QuickBooks vs. Tally: The Pros and Cons
Pros of QuickBooks accounting software:
• Suitable for small businesses and accountants.
• Generate reports easily.
Cons of QuickBooks accounting software: 
• The limitation with the no. of users.
• Limitation of file size.
Pros of Tally accounting software:
• Automatic payroll & Industry-specific features .
• Effortless to understand, no coding is needed.
Cons of Tally accounting software:
• You can only get an update in the yearly subscription
• Recovering the data after forgetting the user ID and password is a bit challenging.
Why Tally ERP is the best accounting software compared to QuickBooks?
• Tally ERP is a very diverse solution. Tally can be considered a more advanced accounting feature, it is the best choice for all businesses.
• Tally offers far more functionality than just basic accounting owing to its in-built payroll features.
• The option to add TSS to enhance its capabilities.
• All the features of Tally are advanced for business operations.
• Additionally, Tally is the best option for use while on the go because it can be accessed from anywhere when combine with cloud technology. 
• Tally is a modern piece of software that offers the best functions and strong security.
• Tally on Cloud is well-suited to modern and adaptable businesses.
• Execute all accounting requirements with trending Tally on Cloud solution.
How does Tally on Cloud fulfill all business accounting needs?
• Any organization whether they are small or large can gain from benefit & features of Tally On Cloud.
• The hassle of maintaining server hardware and other things would be eliminated and save numerous costs such as data maintenance costs, operational costs, and numerous others.
• Fully customizable upgrade options are available. Customize Tally on Cloud service from Tallycloudhub.
• As a result, businesses can upgrade their resources based on their requirements.
• Traditional Tally Software is based on one system. But with Tally on Cloud service from Tallycloudhub one will be able to access Tally data from anywhere through any device in the presence of an internet connection.
• Tally files are secure and stored with multiple layers of security and encrypted backups.
• Tallycloudhub Tally on Cloud service is available at an affordable price.
• Our Cloud-based Tally solution fits every budget.
How to Host Tally Prime / Tally ERP 9 on Cloud Server?
Step 1: Visit Tallycloudhub.com.
Step 2: Connect with our Tally cloud expert for any query or Free Live Tally Cloud Demo.
Step 3: Get Tally Cloud Service as per your requirement.
Step 4: Start using Tally ERP on Cloud from anywhere, anytime on any device.
Why move from QuickBooks to Tally? Tally ERP 9 is a very advanced accounting application that has made the lives of both small and large-scale enterprises easier and enabled them to spend more time on productivity. Tally hosted on the cloud is the most popular because it is cost-effective software.
Tally on Cloud eliminates numerous business expenses and put them together on a Dedicated Tally Cloud Server that is regularly maintained. In the long run, the most prominent option for businesses is Tally on Cloud servers.
We host any version of Tally ERP, including the GST edition on the Cloud. Visit Tallycloudhub.com to take advantages of Tally GST Software demo version on Cloud to get an in-detailed picture of it.
When will QuickBooks shut down in India?
QuickBooks will continue its functioning until 30 April 2023 for its users in India. Users need to download their data and shift out of the product prior to 30 April 2023. Contact Tallycloudhub today, and we can help you to continue with your accounting operations by hosting your Tally accounting software on the Cloud solution.
What is the easiest way to transfer your Quickbooks data to Tally?
Are you thinking about switching from Quickbooks to Tally but are uncertain how you can move the data to Tally? Be at ease because this solution will enable you to transfer huge data to Tally:
Step 1:  First, export your QuickBooks data in the format of .xls
Step 2: You will have the chance to import data as soon as you load the Excel file into the Tally Import Utility module.
Step 3: Click Import data to begin importing all of your Quickbooks data into Tally.
How to get a Trial for Tally on Cloud?
To get the Free live Tally on Cloud trial:
• Visit Tallycloudhub.com.
• Register under View Demo. 
• Our Tally Cloud Expert will get in touch with the information provided by you for scheduling the demo.