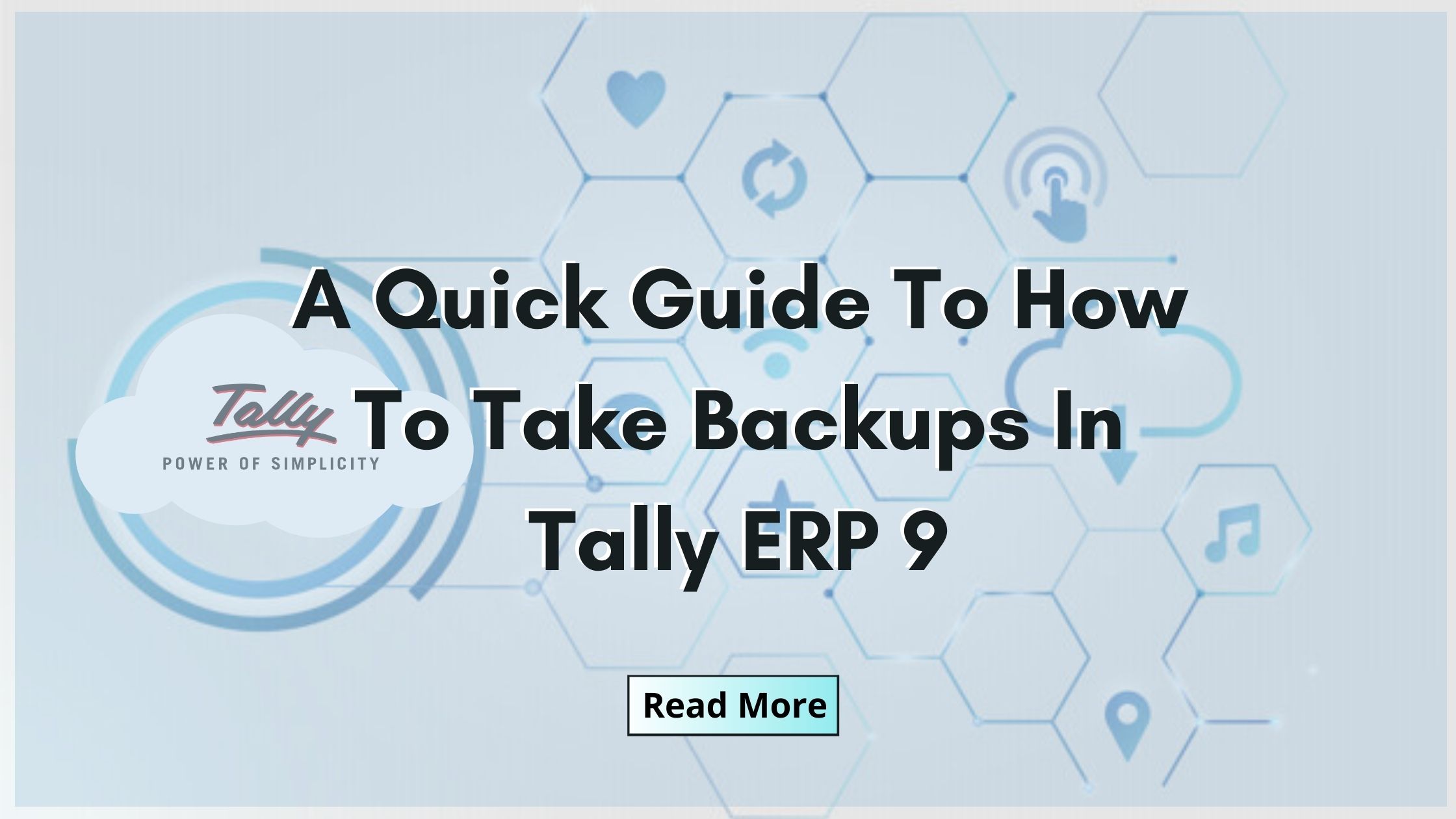 A Quick Guide To How To Take Backup In Tally ERP 9
Can I take Tally Data backup on the Cloud?
• Yes, you can back up Tally ERP 9 online data synchronization automatically. 
• How to take backup of Tally on Cloud? Contact Tallycloudhub Tally on Cloud service provider & use Tally backup and restore secure service on the cloud.
• Sync Tally to cloud and data on the cloud can be accessed from any device with active internet connectivity.
• Any change made will be automatically saved in the data folder.
• Cloud offers a hassle-free automatic Tally backup or Tally prime backup restore option with easy data recovery feature.
Why Tally ERP 9 is the widely used accounting software?
• Tally Accounting software has turned out to be one of the most convenient ERP resource.
• Tally ERP 9 accounting software that has made the work-life of accountants, bookkeepers, financial officers, and other businessmen a lot easier.
• Most of the businesses use Tally ERP 9 because of its efficient features which assists in ultimate accounting, auditing, GST compliance, vouching purposes & other significant activities.
Can Tally be used on the cloud?
• With advancements in cloud technology, Tally accounting software can be installed on the cloud.
• Tally ERP hosted on the cloud computing enhance performance as it is very efficient, secured, and remotely accessible.
• Tally on Cloud solution has made people access their tally account from anywhere, anytime, using any device.
• Benefits of this solutions have made it seamless for the businessmen to access their tally reports, online data, resources, and other Tally applications from different locations and different devices.
• The solution of Tally cloud backup has data storage are very easy, safe, and convenient.
• Now Tally ERP 9 data can be accessed effectively and securely from different locations without any extra resource or software.
• Through this solution you get a facility of automatic Tally online backup that facilitates all your financial and accounting cloud data backup.
Why is Tally ERP Data Backup important?
Tally data comprising of tally reports, vouchers, analysis, and other resource management is of utmost significance for all the Businesses as it keeps a track of all the data recorded. All the transactions and data entered on the tally software should be backed-up regularly in order to never lose out the important data.
Financial data if missed could cause a hell lot of planning mismanagement. So, for Tally data backups regularly are a must. How to take Tally backup?
Tally ERP data backup streamlined by Tally Cloud solution:
Tally data on Cloud solution have made the data saving, restorations, and backups very easy and secured. Through its centralized server, anyone performing or entering any tally data from any different locations could backup their Tally data through automatic online backups of Tally on cloud solution.
Through easy online backups of Tally on cloud solution, you could save or backup your Tally data on your preferred platforms be it Google Drive or Dropbox. It will promote accounting data cloud backup from whenever and wherever you want to access that backed tally data. Tally backups online are more secured and convenient to go for.
How to backup Tally ERP Data?
How to take backup in Tally? To perform your data backups on your respective Destination folder, follow the following quick steps:
1. Firstly, go to the Company info menu by using Alt + F3 gateway.
2. Click the Backup menu, through which a backup processing screen will appear.
3. Then Automatically the source of the data will be selected, or if not, you can select it on your own.
4. If you are looking to have backups on a removable disk, you need to change the destination folder if required.
5. Then you need to select the companies, which you want to perform data backup for & then choose End of list.
6. Once done, accept and save the screen. The data will be backed up at your respective destination folder set.
Is your data really safe on Tally ERP?
You need to take the backup of your data over regular time intervals to determine full protection. But occasionally there are chances you might forget to take manual backup or you might lose data due to Unexpected System Shutdown, Power Surge, Virus Attacks, Hard Drive Crashes, or any natural disaster.
The real advantage that you should acknowledge about using Tally ERP 9 backup over the Cloud is regular storing all the data virtually. Cloud-based Tally online can be accessed on any OS whether it is Tally on Mac or Windows and allows to securely work from anywhere and at any time.
In addition, you can conveniently run Tally on mobile environments. This includes Disaster Recovery Service and frequent Tally auto backup to help you recover the data you have lost because of any uncontrollable tragedy.
Since we are human, sometimes we will certainly forget to backup and regular data backup is important for the business. How to backup Tally data in Cloud? You just need to contact Tallycloudhub tally cloud service. We provide automated data backup facilities for businesses of all sizes, whether small, medium, or large, to recover tally data and backup work easy.
Get complete managed services and guarantee peace of mind. So, make the most of the cloud by hosting your accounting systems and try Tally Cloud Solutions from Tallycloudhub.com. Contact us if you want to try a Free Live Tally Cloud Demo.
Is it advisable to take a local backup of tally data?
The quickest and easiest way of keeping a local backup of Tally data is using a Removable disk or pen drive or external hard drive, or an extra machine or laptop which may create a storage concern. It is recommended to use Tally backup on cloud service as it is fully managed by experts and provides unlimited storage.
Can I backup specific Tally Erp 9 entries or masters?
No, back up function for a single company or a group of companies so the backup feature cannot be used for selected transactions and masters.
Check Out More Tally Related Blogs: