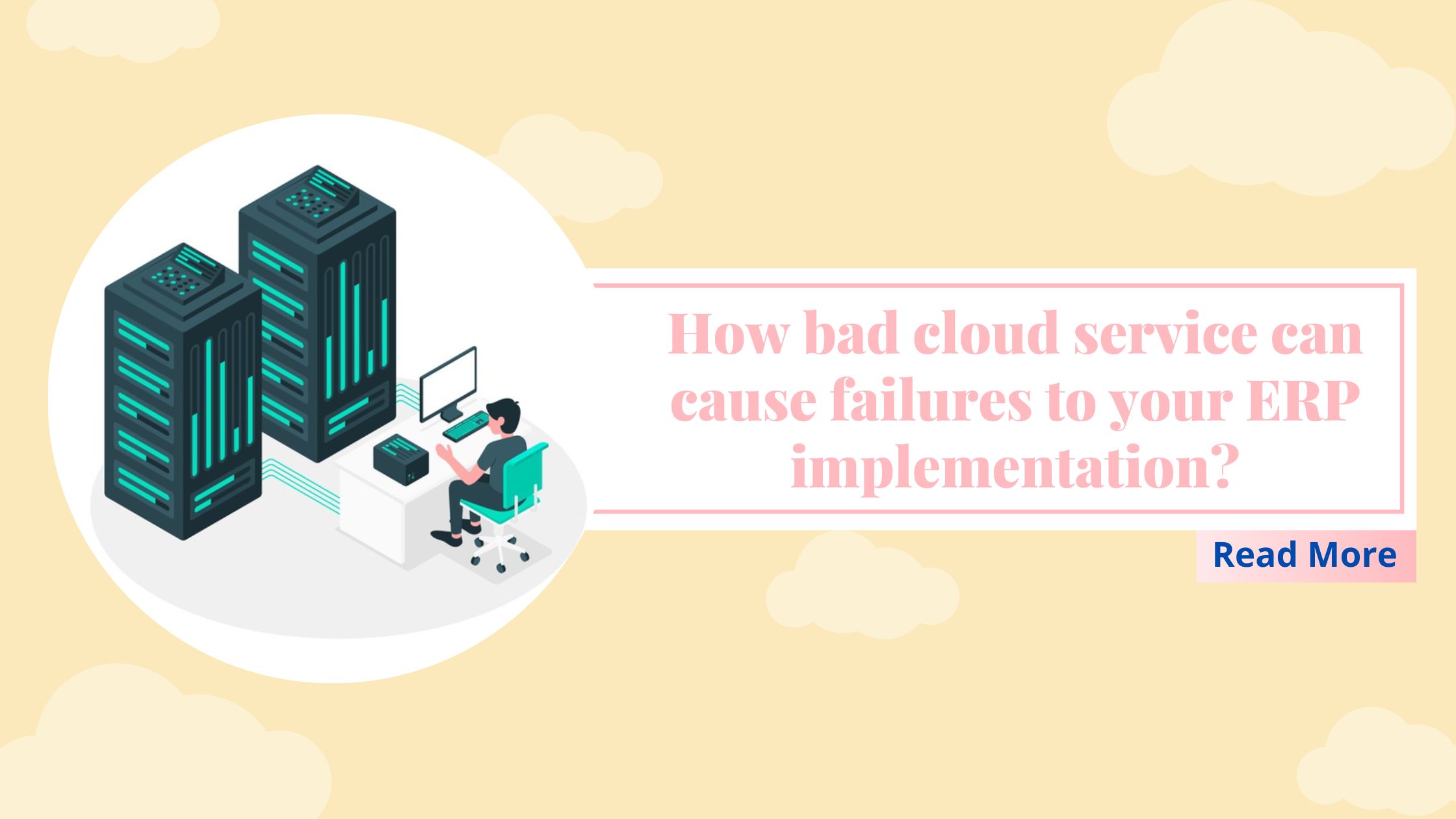 How bad cloud service can cause failures to your ERP implementation?
How bad cloud service can cause failures to your ERP implementation?
Cloud solutions are almost everywhere. This unbelievable invention of cloud technology has brought a hell lot of efficiency in how we store data, files, and how we network from different locations. Cloud technology has also made things virtual and remote so that people from different locations can connect effectively just on the basis of this virtual technology called Cloud technology.
Cloud technology functions through a server creating a virtual environment for its network. As Cloud is making its mark everywhere, it has also been an efficient tool for running software on the cloud. But this might go wrong if you are troubled with a bad cloud service.
One of the most important software used on the cloud today is ERP software. ERP abbreviates "Enterprise Resource Planning" which is mainly used by businesses to maintain their daily records of Accounts, finance, inventory management, etc. ERP on the cloud has achieved worldwide significance as now through ERP on the cloud, different people from different locations can access their ERP software effectively. No extra costs or expenses would now be needed to install and manage separate ERPs everywhere.
This becomes possible only with the help of Cloud's ERP SaaS (Software as a Service) solution. This ERP SaaS solution makes the CA and organization future-ready, Flexible, portable with faster implementations.
Though this advantage could soon turn out to be a disadvantage if you don't choose a proper cloud service provider. An inefficient cloud service provider could hang your functioning and keep you on hold. Also, there might be chances of your crucial data being scrapped out. Even your networks could get exposed to high malware attacks. So it gets very important to have the best cloud service facilitating your ERP on the cloud.
Security:
Security is the most important thing for its business. Security of data, files, and resources is always the utmost concern. You should make sure that your service provider is clean with its history and provides the best security patches and guarantees.
Easy customizations:
Customizations to your cloud get important when you are adjusting and scaling as per your requirements. Check with your cloud Service provider whether they provide room for your personalized features.
Performance:
Uptime and Bandwidth are the two most important things to rate the performance of a cloud solution. Well having the best of uptime and bandwidth is what will make your ERP run smoothly with high performance. So make sure you are guaranteed with the highest of uptime and Bandwidth.
24/7 customer support
When you run software on the cloud, there might be instances when you experience some glitches after all it is technically right. So your service provider should be online for your queries whenever you have one so that you don't stop or lag whenever you go through any problems.
Data center location
The location of data centers plays a major role as your servers are hosted in these data centers. To promote the utmost speed and minimal latency, go for service providers having their data centers at the same location where you are functioning.
These are the 5 most important factors to choose while going for an ERP cloud solution. Well, we will save it for you, you don't have to go anywhere. Tallycloudhub.com is the best solution to all your ERP cloud needs. We have been in this industry for a while now and have facilitated thousands of our happy clients. Get your Tally ERP on the cloud plan today from Tallycloudhub.com.