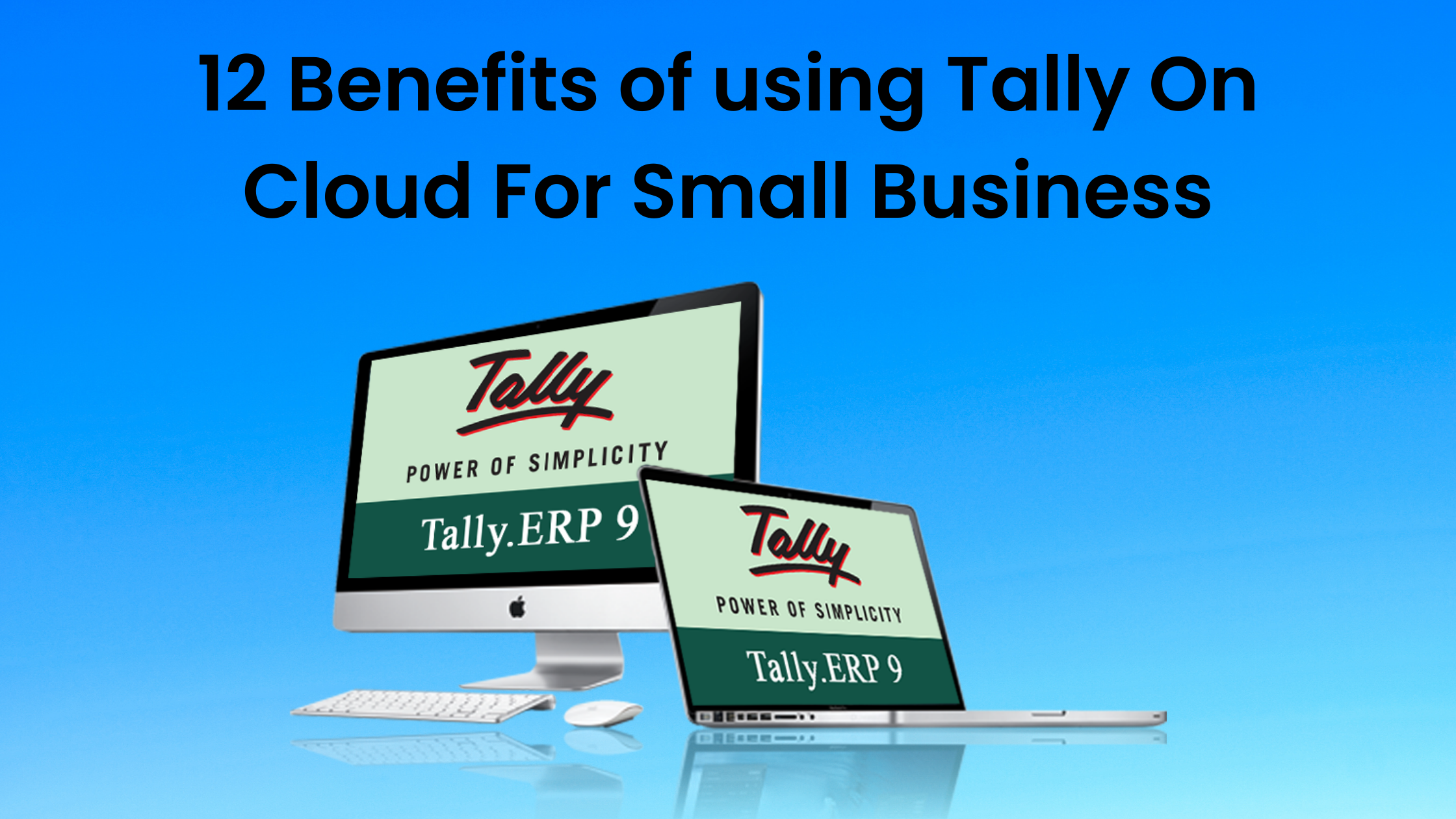 Benefits of Tally on Cloud for Small Businesses
12 Benefits of Tally on Cloud for Small Businesses
Tally accounting software has been used by many businesses today. Talking about the small businesses, Tally accounting software has been very convenient to use and maintain their accounting books and records.
Small and medium-sized businesses that are looking for ways to grow, expand, and scale up by incurring lesser costs and having more effective tools, find Tally accounting software the most efficient. It handles almost everything like accounting, tax management, inventory management, purchase management, sales management, invoicing, payroll, etc.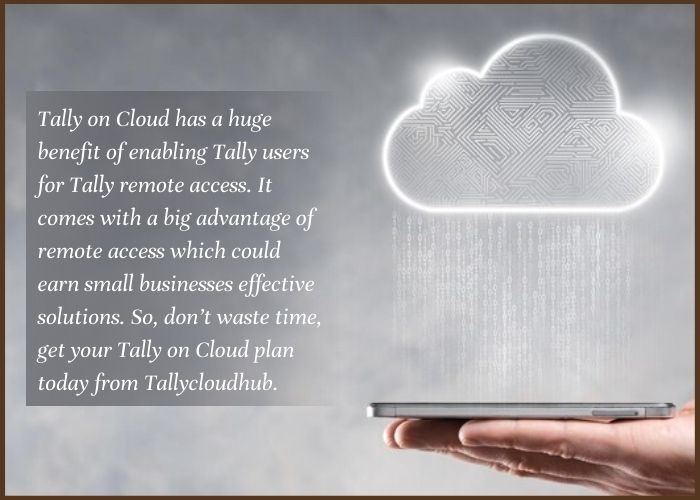 And with technology playing the most important role, small businesses have been looking up those tech-savvy solutions that can earn them millions and incur them less. Cloud technology has been one of those biggest technology solutions for businesses as it has facilitated businesses with easy solutions to storage, networking, and remote access. It has developed a virtual environment where businesses can transfer their tally data remotely from different locations.  
Here is where we bring the mixture of two effective tools into one. That's right "Tally on Cloud". With the help of cloud technology, you can enhance your Tally performance accounting software can be used on the cloud without any hardware or software but just the internet connection and a device to use from anywhere and anytime.
How Tally on Cloud is useful for small businesses?
Tally cloud version lets businesses access all their data anytime and anywhere. You can use any device to use Tally Cloud accounting software and access your stored data. The Tally cloud-based version is the best economical way to maintain Tally without any issues.
Tally ERP can be effectively useful for various accounting purposes. Tally on cloud is a SAAS solution for CA that can facilitate the tally accounting software and its resources on the cloud. 
12 Important Benefits of Tally on Cloud:
There are a lot of features & benefits of tally on cloud for all kinds of businesses. The Tally on Cloud benefits are far better than the On-premise Tally ERP 9.
 In general, the cloud version has a better security system that can maintain your data very safely. Therefore using tally accounting software on cloud, you can experience the below-mentioned benefits:
Cloud for Tally ERP 9 provides robust data security. An essential task of backup that Tally ERP on cloud does is that the business data can get automated data backups. Cloud has the latest antivirus feature that mainly includes a better security system of tally ERP for the cloud. Tally ensure data security and can be easily accessed through RDP.
2. Anytime Anywhere at Any Device
Tally is the best choice for accounting and business management. Tally on cloud for small businesses. can facilitate anytime and anywhere access via any device using Tally on cloud from Tallycloudhub Starting From just 275 per month only!
Tally on cloud can take the Tally ERP 9 from the server and then put it in the Tallycloudhub. During that time, the host will cover all expenses to maintain the server. 
4. Customizable & Scalable
The most effective process you get with the tally on cloud is the freedom to make configurations and customizations to the cloud plan. A small business with requirements of scaling up can sure meet their needs via tally on cloud.
Tally cloud is the best service, without any doubt. It ensures a secure and safe backup of all data types on the cloud for any business. The reliability of data can be ensured even after the system shuts down or restarts. The Tally database can run the quality data integrity at regular intervals.
Tally ERP 9 can be useful for both account and business management. Tally ERP 9 is the traditional or on-premise software. You can access this software from any device where Tally is downloaded. The tally's functionality can be completely changed with Tally ERP 9 on cloud. You can use the RDP protocol to publish the tally application. You can get the accessibility of tally from any location.
8. Strategic Business planning
Tally software on cloud can be helpful for businesses to manage and analyze the records and data later. Businesses can analyze them in future when it is most needed. During that time, businesses can take necessary steps and plans. With this software, business planning can become simpler, faster, and more efficient.
Generally, disaster recovery can be manageable with Tally on Cloud as the data can be stored on Cloud. Therefore you can retrieve business at any time from the cloud. You can make use of it during any natural disaster that may damage your office property.
Extreme flexibility at work is a win-win for both employees and employers. You can access data even after working hours can be possible with a tally on cloud. The 24/7 work access can get more work done and let employees work with better efficiency. You can easily work from any device and even with online Tally.
11. Tally Cloud Free Demo
You can make use of the free trial as the Tally on Cloud Demo from the service provider. It can be helpful for you to understand its full features. Then you can test how it can be beneficial for you. This Tally Cloud trial can be important & useful for you to know more about the Service.
12. Assistance To All Tally Versions
Here you can find all the facilities to choose from and then use any Tally software versions that includes Tally GST Software. Make use of the instant assistance from the service provider and then proceed further. You can also contact the support team when you want immediate help to overcome any major issues.
There are a lot of benefits and extraordinary features of tally on cloud for individual & business. The most effective benefits are that any business or enterprise can easily use it. Businesses of any size can go with the Tally remote access without hesitation.
It is mainly since; the Tally cloud accounting software solution is very cost-effective and highly secure. The cloud accounting software for small business can be used from different locations. Businesses experts can contact the leading tally cloud service provider and get the tally cloud solutions.
Tally on Cloud has a huge benefit of enabling Tally users for Tally remote access. It comes with a big advantage of remote access which could earn small businesses effective solutions. So, don't waste time, buy Tally on Cloud plan today from TallyCloudHub.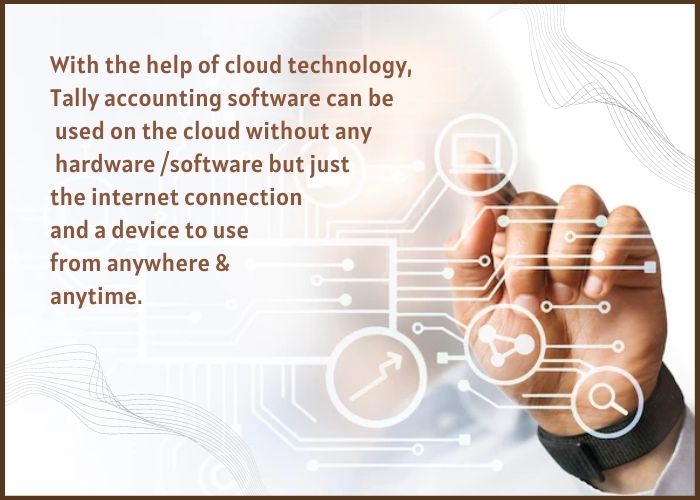 Cloud computing is online accounting where you can access the software remotely but not on your computer. Those who want to get remote access can use cloud computing without any hesitation. You can access your data and business application remotely by installing the accounting software in the cloud system.
Where is the data of Tally stored?
Tally data can be stored securely on the cloud server without any issues. The data of Tally will never get leaked from the cloud server. Therefore you can trust this process.