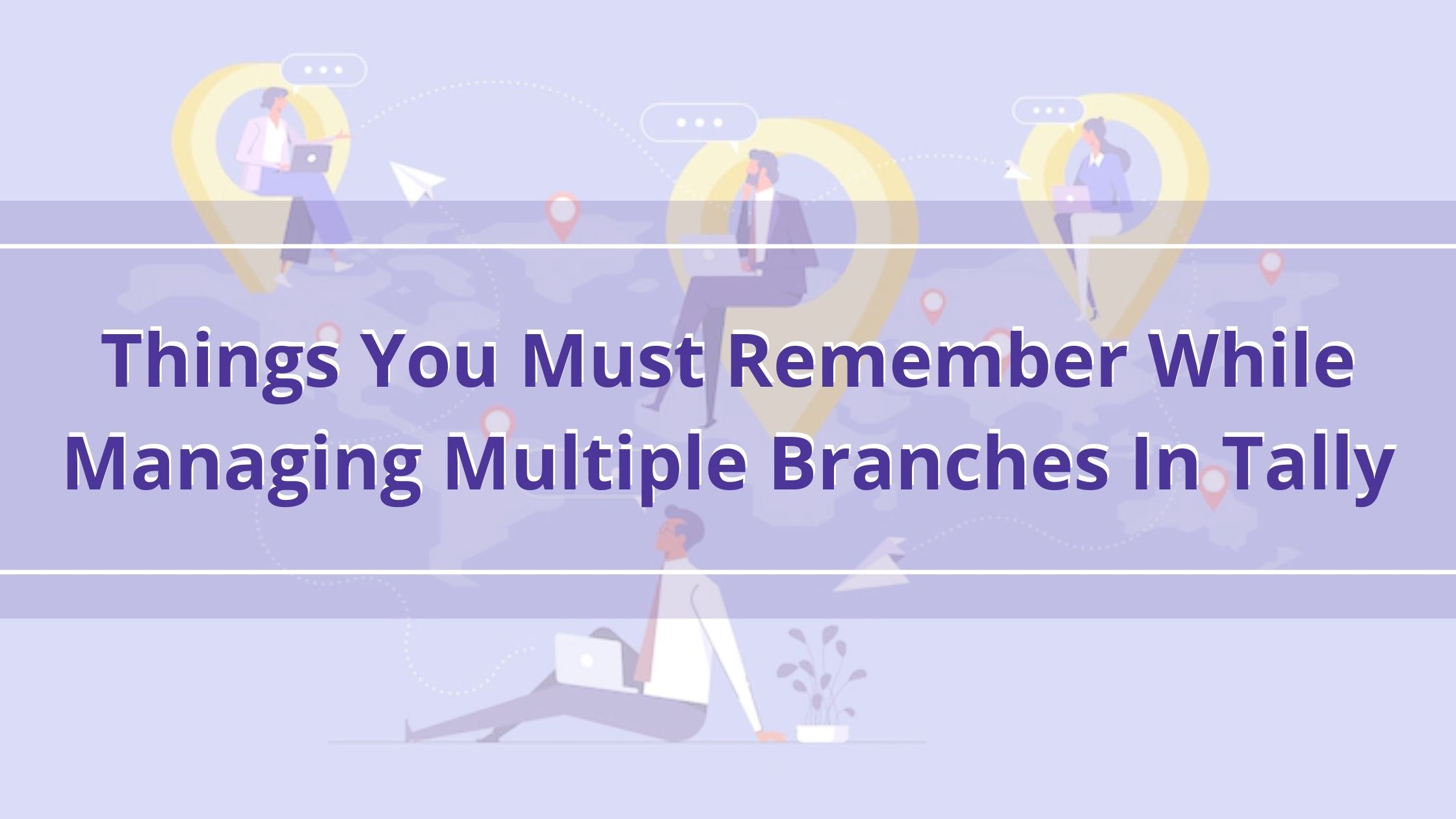 Things You Must Remember While Managing Multiple Branches In Tally
Tally on Cloud for Business With Multiple Branches
As everyone knows the businesses today, the Tally ERP has become a crucial part. For most companies, people prefer Tally over other accounting software to work on data related to purchases, sales, revenues, etc. 
As a business grows, the needs also increase, making a single software challenging to cope with the requirements. But still, even if tally cannot deal with all the essentials, it fulfills the maximum number of demands. 
Why do Tally users need Tally on Cloud technology?
The only thing why it lacks is because every business works differently. There is uniqueness in every industry and due to their unique needs, unique software needs to be made for every business. But Tally also comes with the unusual feature of robustness. The best part about this Tally is the Tally Cloud accounting software. You can use it on any operating system like Tally on Mac.
Why do businesses with multiple branches need Tally on Cloud?
Companies grow and grow over time. A company that a single person started can become a vast empire over time, and so, the software demand increases. Tally on Cloud allows users to access the Tally remotely which lets people use the software on the system from anywhere in the world remotely. Tally on Cloud offers the feature which let branches synchronize their data over multiple devices. 
There are two ways in which the data can be synchronized.
In this method, the client's computer and the server computer must be both connected to the internet at the same time through Tally.Net server. By this, Tally data can be stored securely and transferred via the tally.Net server. For this, the receiving point and the sending point must have a valid TSS for the transfer process to take place effectively.
In this method of synchronization, the client and the server need not be online at the same time. The host server connects with the Tally.Net server and uploads the data. When the data uploading completes, the data can be downloaded anytime. The client has to login to tally and download the data. This can also be achieved by using Tally ERP 9 on cloud.
For this synchronization process, there are many things that need to be checked beforehand. Some of these things are mentioned below.
The

verification

 of an excellent and Stable 

Net Connection

.

Proper

Coordination

, including follow-up processes.

The integrity of

data 

may be lost, if so happens, check for the stability of the 

internet 

connection and again 

upload

 the data.

Make sure that the

ledgers 

are not duplicated.
How is Tally on Cloud as Tally Online?
Tally on cloud using the SAAS technology helps your tally accounting software to be run from anywhere and anytime using any device. The user with admin details could run and access tally reports and data through cloud itself. The user could also record their vouchers, stocks, inventories, and all sorts of Tally ERP accounting software functions through cloud technology. With the feature of running tally account from anywhere and anytime, Tally on Cloud becomes Tally online.
Top 5 reasons for not ignoring the important benefits of Tally on Cloud for multiple branches.
Tally on Cloud helps connect people from different locations and collaborate with different users at different locations to store, share, and access tally accounting software from remote locations. It builds better collaboration among all the team members.
With the efficiency of cloud technology, Tally on Cloud facilitates better storage where all the files, applications, software, and other resources could be stored from different locations securely.
Tally on Cloud builds a good security structure to all your data and drives, being safeguarded from malicious practices. Even if handled remotely, your tally on cloud won't give you any defaults as far as the security of your data is concerned.
As discussed earlier, cloud technology makes your tally accounting software to be highly portable and to be used from any different location and from any different devices.
Tally on Cloud cuts most of your hardware and software installation and other equipment costs as everything is managed virtually through Tally online. So all your hardware management and other limitations are streamlined and made more efficient through Tally on Cloud.
These are just some of the many features, as cloud technology and Tally on Cloud make it a hell lot easier for all the businesses to maintain their Tally ERP 9 accounting software online. Therefore we strongly recommend you use your Tally accounting software through Tally on Cloud and make it more effective to have a Tally online.
To match with the trend of Tally on Cloud, get your Tally on Cloud plan today from Tallycloudhub.com.
What is actually Cloud technology?
Cloud technology creates a mutual environment for people to access storage from anywhere and anytime. SAAS i.e. (Software as a Service) functionalities are used by Cloud technology to run different software through its technology of cloud computing. That is how Tally on Cloud becomes more effective with SAAS which facilitates Tally accounting software to run online as Tally Online.
Why work-from-home culture has influenced Tally on Cloud solution?
It has been around the buzz lately as with more of a work-from-home culture developing worldwide, the use of cloud technology has clearly become significant. Businesses are using all the sources of virtual technologies to help their businesses run remotely from different locations.