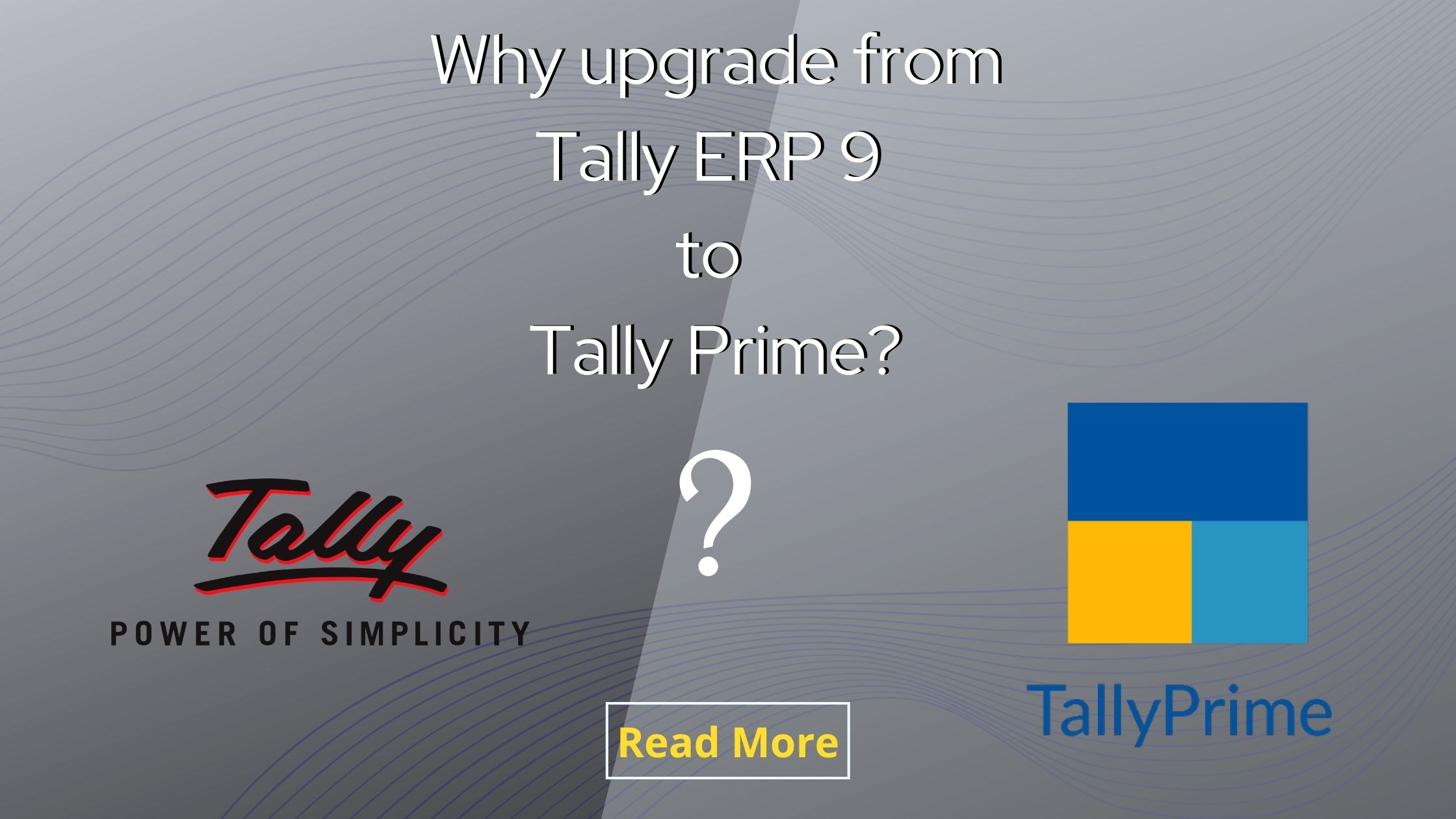 Why upgrade from Tally ERP 9 to Tally Prime on Cloud?
Updated Tally ERP version: Tally Prime
Tally's different versions have been launched over the period of 30 years and each latest version released brings some major evolution and improvements such as business systems for multi-location, inventory management practice, payroll, statutory & GST regime, etc.
With the profoundly rooted aim of fulfilling customer's needs and delivering advanced services that would progress the business growth by increasing efficiency and versatility. Initially, it was labeled as Tally ERP release 7 or Tally 18.
What is Tally prime? Tally Solutions launched the latest version: Tally Prime, which has a unique logo & an innovative brand look but similar to Tally ERP 9. Installing Tally Prime will now allow CA, Entrepreneur, Business Management, accountants, and other users of Tally to conveniently manage their work and make it simple each day.
Note: You can concurrently run Tally ERP 9 and Tally Prime on your active license.
What is Tally Prime on Cloud?
Tally Prime is the latest release of Tally ERP 9.Tally Prime's official release date is November 9th, 2020. For any business, Tally Prime is the supreme software that provides robust capabilities for detecting and correcting errors. Tally Prime on Cloud is flexible and matches all the changing needs of evolving business.
Tally Prime is a business management application that watches out for accounting (sales & purchases, receivables & payables), Management of payroll and inventory (processing orders, inventory monitoring), bank transactions, statutory, etc.
Hosting Tally Prime on Cloud further eases decision making for business leaders by providing remote access to crucial reports 24*7. Strategic planning and decision making are much effective and simple with Tally Prime reports. It offers all accounting and financial reports, cost centre reports, cash flow reports, and many other detailed reports.
Why upgrade from Tally software to Tally Prime on Cloud?
The most notable & prominent accounting application is Tally. This application has been supporting organizations worldwide for more than 3 decades. Is Tally ERP 9 and Tally Prime identical? What is the need to upgrade to Tally Prime?
A person does not have to be skilled in the application and Tally Prime software can be operated effectively by anyone. This is designed in such a manner that it can be used by an accountant, small business owner, or any other user of Tally. Tally Prime has a prominent 'Go To' function in the navigation bar that allows access to 90% of the program.
Besides easy access, Tally Prime hosted on Cloud offers printing from anywhere. Cloud Web Tally provide you with detailed reports on ratio analysis, receipts & payments, and several other informative reports from anywhere. Decision making has never been so quick and convenient. Tally Prime also provides statutory compliance, which indicates that Tally supports all statutory-related modifications.
Tally Prime on Cloud Advantages:
Tally Prime is an excellent business ERP application. Tally Prime on Cloud can be thoroughly used by small, medium, and large entities. It is an exceptional solution suite that can also be customized if required. Tally Prime software is all set up for GST activities. Understand the advantages of Tally Prime software below:
SMEs require an ERP system to handle these three significant functions – accounting, inventory, and regulation. The easy-to-use interface manages the complicated functions in the background.
As Tally Prime makes it much easier to manage accounting, inventory, and compliance within a single application, it becomes simpler for business leaders to determine the financial implications on their businesses and make decisions based on everyday data.
When the files of the data are managed through Tally Prime Server, the location of the data on the server is not required. In order to access and operate Tally Prime only the data server name is sufficient.
It focuses on optimizing processes for enhanced efficiency and also offers the ability to track, evaluate activities & sessions of the user, and even disconnect users if required.
Tally Prime
on Cloud 
Benefits:
The benefits that Tally Prime on Cloud would provide your business includes:
1. Highly Flexible and Speedy
The complication of any entity is that they can not disrupt their functions at any time. Tally Prime makes things much simpler for all businesses. The user can pass their first transaction within moments of downloading the application. As businesses need to develop various types of vouchers most of the time, Tally Prime offers the flexibility to produce on-the-spot masters.
Latest features and functions are anticipated to be introduced to the organization's current ERP applications as it grows over a period of time. Based on their growing circumstances, Tally Prime permits the inclusion of features such as numbers for inventory batch, sales and purchase order processing, and much more. Many such functionalities can be allowed at any point in time without interrupting previously documented transactions.
Tally Prime flawlessly executes compliance. Even in the mid of a financial year, it makes it much easier to handle financial details in Tax regimes. GST only belongs to a particular series of transactions that the business owners provide with the date of GST commencement. Nothing is altered in the data pertaining to the earlier tax regime. Data splitting is not necessary for two different tax regimes. Tally Prime oversees that.
In the newest Tally Prime, the user can traverse and check at elaborate reports with "Go To" and "customizable reports" features and can also conveniently chop them the way you require. Tally Prime supports your growth by managing multiple companies and gradually integrating features like multiple go-downs, multi-currencies, cost centers, processing orders, etc. This helps you to get away from uncertainties and focus on business growth in return.
Business data backup and restore operations are handled only with authorization permission at the server level. This ensures absolute authority over user access to data.
Tally Prime on Cloud Features:
1. The user can easily access business information through various reports & freely switch among them, no matter in Tally where you are, with the new Go To feature.
2. When the user either wants to create company data or lade existing data of the company, they can even explore Windows folders from within the product.
3. Printing out invoices & reports in Tally Prime is much more favorable with the opportunity to print eco-friendly from anywhere as it retains 50% of the paper.
4. Integration of key combinations like Ctrl+C & Ctrl+V for windows to harmonize. 
5. The application has strengthened the functionality of the mouse so that the user can operate the application as seamlessly as they navigate it on the keyboard.
6. Change Mode launched to toggle between the different transaction modes without considering pre-configuration.
Tally ERP 9 vs Tally Prime: What is the difference?
Tally ERP or Tally Prime? What is exceptional in Tally Prime? How to upgrade to Tally Prime? The comparison or difference of Tally ERP 9 and Tally Prime is listed below. The information will guide you to move effortlessly through Tally Prime while evaluating the features of your existing Tally ERP 9.
By specifying a data path company data be accessed.

From drive or any path, company data can be accessed and monitor the data status like migration needed or corrupted data.

Multi-Tasking can be performed by opening multiple Tally ERP 9 instances.

Multi-Tasking can be performed in one instance of Tally Prime. In the "Go To" feature, Opened Reports can be verified.

The user needs to at least make 3 clicks to open any accounts in Tally ERP 9. Tally Gateway > Display > List of Account.

All your masters like groups, ledgers, types of vouchers, cost centre, etc can be displayed from one screen under "Chart of Accounts" option.

Proceed through the complete Supplementary detail by filling the required details in Tally ERP 9.

Insert some information as 'permanent details' that are needed in 'configuration' most of the time & acquire only those data in Supplementary details.

Tally Copy/ Paste function

Shortcut Keys in Tally ERP 9 to copy & paste

Ctrl+ Alt + C

Ctrl+ Alt + V

Global keys combination used in Tally Prime for copy and paste Ctrl+ C

Ctrl+ V

These options were accessible in 3 different locations in Tally ERP 9, now navigation is faster.

For sales vouchers or other vouchers, the Change Mode gives you 3 options – Item Invoice, Accounting Invoice, & As Invoice.

In Tally ERP 9, when an invoice is printed with many details, the invoices are printed on different pages because the page that is not needed is occupied by idle blank space.

This feature brings down your 6-page invoice to a 2-page invoice if you choose 'optimize printing to save paper' in Tally Prime, hence the cost of printing, paper, and others can be saved.

Update Transaction Details

You need to undergo all of the elements in Tally ERP 9 to update specific item details.

Use "More Details" in Transactions and update specific item details smoothly.
A significant improvement in the functioning and appearance of Tally ERP was implemented in this latest version. Tally ERP 9 released Tally Prime in order to make everyday activities easier and to operate the business more efficiently. Cloud-based Tally Prime ensures that you adhere to your goals with the strategies.
It provides safe any time access to detailed business insights and reports from anywhere on Windows or Mac-based device other devices to take favorable business decisions and track the development periodically. Make your Tally more efficient by hosting your version of Tally on cloud. For Free Tally Prime on Cloud Live Demo or details about Tally on Cloud prices visit Tallycloudhub Today.
Is Tally Prime on Cloud efficient?
Tally is configured easily and can even be operated by users from non-IT and non-account backgrounds. Tally Prime can be accessed instantly as it provides easy data discovery, a persistent option, access without remembering the paths, and much more.
Can business reports be accessed on a mobile device?
Critical business data and insights can be securely accessed on a real-time basis on Tally Prime using a web browser from anywhere on any device.
What type of reports Tally Prime offers?
The user obtains insight reports to make effective business decisions with the help of a variety of business reports like Accounting, Finance, Inventory, MIS, and Statutory Reports.
How users can split company data in Tally Prime?
1. Gateway of Tally -> Alt+Y -> Split -> Split Data. (For accessing Split Company Data screen)
2. Choose the company from the List of Companies.
3. Enter the date in the Split from and press enter.
The date entered in the Split From is considered to be the starting date of the current financial year. After splitting the company data, two distinct companies will be produced without changing the original records. You may, if needed, the user can rename, record, or alter any records in these companies.