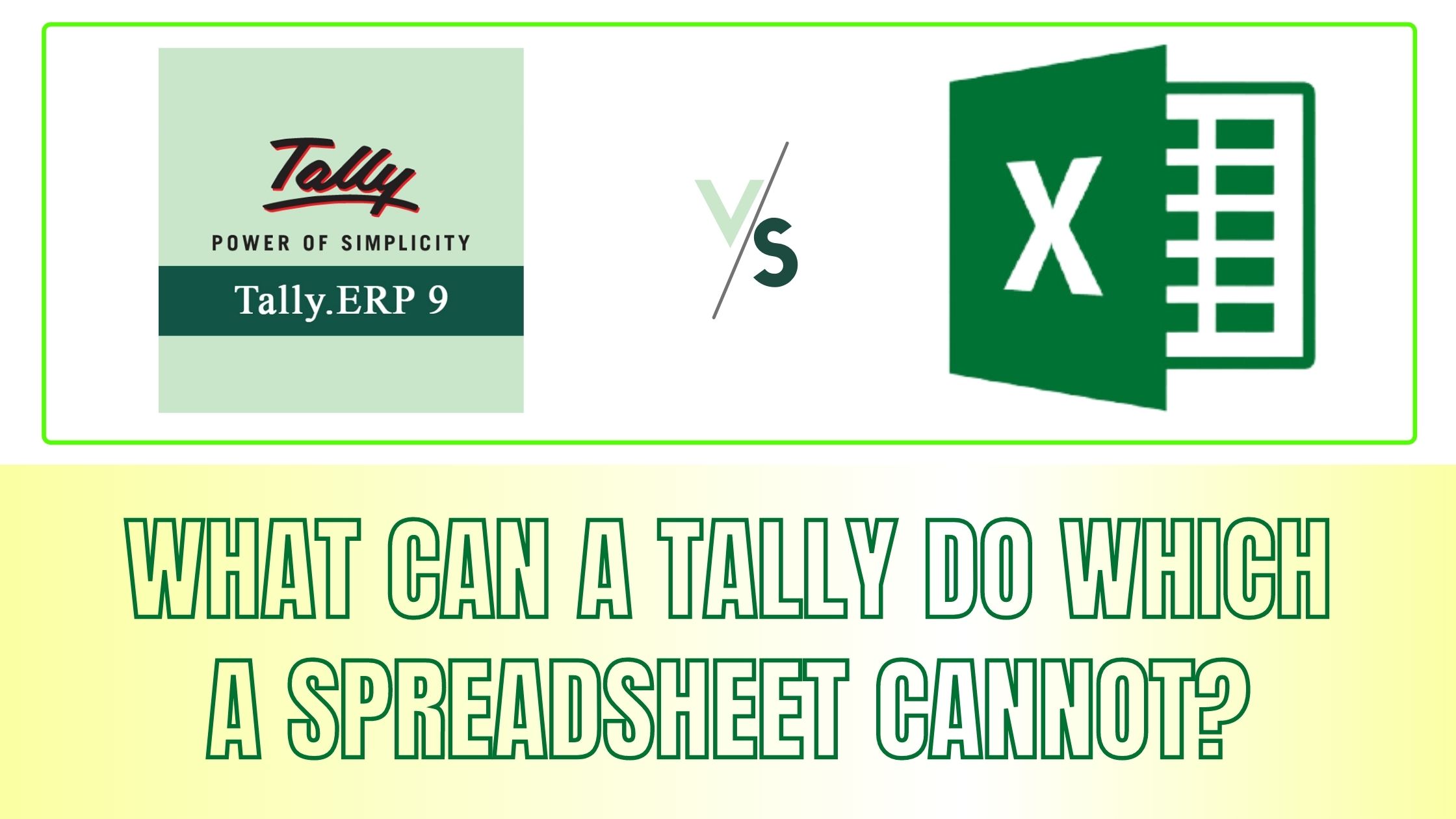 Businesses in the early times were very much dependent on these spreadsheets, but now are importing towards better alternatives like excel to Tally. Tally accounting software has undoubtedly reined this competition in a short period of time with its benefits. What is Tally ERP, it is one accounting and auditing software for business purposes. Tally ERP comes with numerous advantages which enhance business productivity.
Why Spreadsheet or Tally is needed?
Both Tally and spreadsheet are popular ERP accounting software used for recording and representing a report. These are used for handling leads, customers, inventories, orders, receivables, cash flows, reporting, etc. A spreadsheet is generally used by some SMEs because of its low-cost and convenient services. It is easy to create but doesn't support automation.
Difference Between Spreadsheet & Tally:
Tally and spreadsheet performs the recording and representing features but there might be some shortcomings where Spreadsheet's use can be objected like-
| | | |
| --- | --- | --- |
| | | |
| | Though Tally is superficially designed to contain minimal of those errors and inform well before if there stand any chances of errors arising. | After a study, it was found that the spreadsheet might have some unknown errors which usually are not visible and might mislead the users with incorrect information in the spreadsheet. |
| | Tally on the other side allows access to only authorized people who are allowed to access the account. | Spreadsheets having valuable data can be easily shared with unauthorized people which can degrade the privacy of your data. |
| | Tally promotes ultimate accuracy as it accepts the actual value of invoices and other reports and then creates a sheet of accurate information. | Data in a spreadsheet cannot be taken at face value. As the data input by a particular person may not match with the backed system. For example – A sales report generated by the salesperson may not match the same available in the accounting software. |
| | Tally, on the other hand, takes proper measures to protect your valuable data. | There might stand a risk of losing the data as these spreadsheets are around your local PCs which may not be backed up regularly. This could lead to data leakages ultimately degrading your data's security. |
| | Tally doesn't require any such kind of duplication to be done. | In many instances, the spreadsheet may require you to duplicate the entry of data which can lead to wastage of time. |
| | On the other hand, Tally specializes in automation by automating all the transactions of recording, reporting, and representing transactions. | Spreadsheet fails in automating operations and processes. It is difficult to trigger the islands of info and automate it. |
How Spreadsheet is different from Tally?
Excel spreadsheet has graphing resources, calculation, representation of data, pivot tables, functions of analysis, and Visual Basic for Applications which is a macro programming language. While Tally is an accounting and inventory management exclusive business software. Each of them has a distinct role to play.
Tally offers data integrity as an automated system, which might not be possible if you're handling several spreadsheets. As a result, when it refers to excel vs accounting software, Tally ERP 9 is the definite winner as it is a safer solution that will help you with business operations when your company expands.
What to choose: Spreadsheet or Tally?
• Basic accounting tasks are already covered by Tally, so you don't have to stress about them.
• It provides multilingual operations as well as tax support for smooth management.
• Tally assists you in automatically updating your cash flow, balance sheet, P&L account, and other financial statements.
• Tasks like Stock management, book-keeping, ratio analysis, and bank reconciliation can be done effectively with this.
• Tally is indeed simple to use and handle, and it provides companies with a variety of online functions.
• Tally ERP 9 has a lot of integration features and initiates measures to protect your tally data.
• Any Excel data can be imported into Tally using the excel to tally import utility tool, which can then be formatted as required.
Though Spreadsheet can be a very convenient option it also poses some defects which cannot be avoided in today's hour. Tally accounting software is capable of performing multiple tasks for accounting and auditing purposes can be a perfect tool when combined with Cloud computing for your business. Tally can be run on Cloud if you want to use it remotely from anywhere, at any time, using computers or any device. 
Tallycloudhub specializes in providing cloud solutions for Tally at reasonable rates. Go get your Tally on Cloud plan today.
What are the things to remember when making Tally data to import in Spreadsheet?
• All data fields or columns should be in the same sequence as they appear in the XML file. The date field would be in the text format YYYY/MM/DD.  
• Numbers should not be separated by comma or formatted in currency.
• Only two decimals are allowed. To accomplish this, use the '=ROUND' element.
• To avoid errors when importing, make sure the ledger names in Excel equal those in Tally.
How Tally on Cloud is beneficial for business?
Combining Tally with Cloud technology transforms a company's entire working environment. It is the most popular product in the Tally product line. Demand for Tally on Cloud has grown as a result of the work-from-home culture and numerous  features Tally Cloud offers. Users prefer Tally on Cloud over on-premise as it offers benefits of multi-layer security, auto backup, remote access, and is cost-effective.