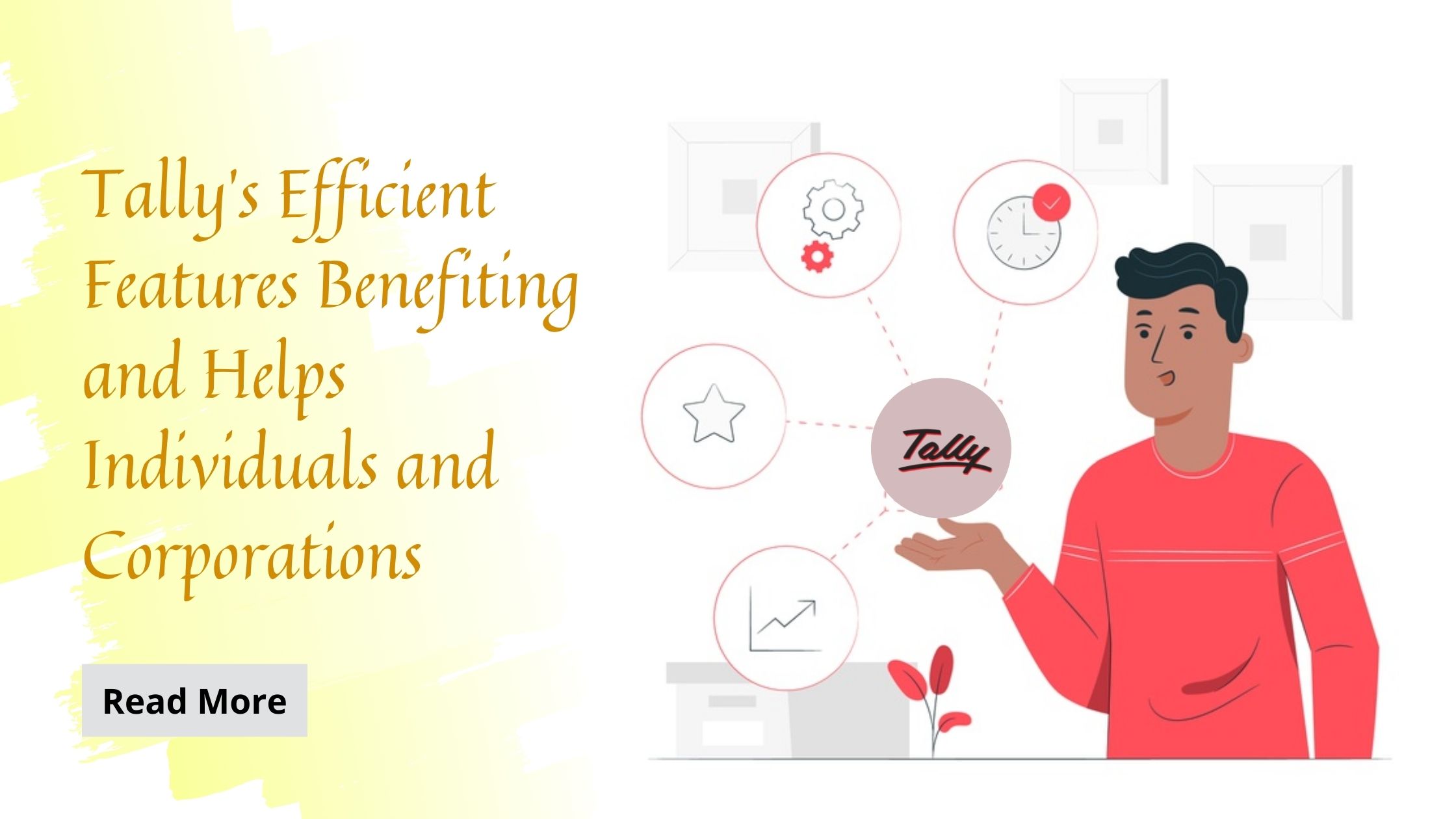 Tally's Efficient Features Benefiting and Helps Individuals and Corporations
Introduction of Tally ERP
Accounting is a field that requires quite much calculation and maintenance. Technological advancement and the advent of software like ERP have made this easier. Tally ERP is accounting software that provides 3-way visibility to the customer, provider along with software developer. In best software like tally, enter the issue and after that, you can see it in three ways which escalate the effectiveness in resolving the issues in online Tally support.
What is Tally Accounting Software?
The application of Tally ERP 9 is used by large firms to have control over their finances and accounts along with the inventory. There is great importance due to its ease of use and low cost. Also, you can make use of GST in Tally ERP 9 by activating the GST feature. It is an opted choice for P&L information on primary groups.
Why use Tally ERP For Business Operations?
The use of Tally ERP 9 is just expanding. It is extremely versatile and is helping in the growth of businesses, corporates, and individuals. With its rising demand, it has come up with a range of effective functions. There are several Tally shortcut function keys to manage the duties, work, profile, schedule, etc of the employees.
What are the efficient features of Tally that benefit individuals and corporations?
The following are the salient features of the Tally software:
Simplicity, no codes, well built, versatility has been some of the best accounting features in tally.
It uses multi-languages which means you can preserve the accounts in one language and view it in a different language.
Its synchronization feature will spontaneously maintain the transaction updates along with the location.
It is capable of creating consolidated financial statements.
Tally customization can be done according to the need of the business.
This accounting software packages can be used by several groups.
Which security and control feature Tally offers?
Tally has many efficient features that make it unique and the best fit. Here are a few of its security and control features: 
So, 

what is a Tally vault

, with which the data remains encrypted and safe? It can be accessed only through a password.

Hide data path

: It helps to 

Hide the data path 

and keeps it safe.

Data entry report and log

: Check up on the activities of your employee from time to time. It helps with efficient work. This can be done with a Data

 entry report and log.
What are the advantages of Tally ERP?
The advantages of Tally ERP 9 in business accounting software are as follows:
Payroll management:
Easily maintain the financial record of the employee. It includes the bonus, tax, payment, and salary to employee calculations.
Management in the banking sector: 
Tally Support is used by banks to handle the finances. It helps ease the calculation of deposits, withdrawals, and interest.
Regulation of data across geographical locations:
Tally software can manage data all around the world. It can make a common calculation of multiple branches.
Ease of maintaining a budget: 
One can maintain the budget easily with tally. It helps to manage the expenses of the companies.
Simple tax returns filling: 
Helps the company to follow GST norms. Small businesses use Tax GST to take care of GST.
Audit tool for compliance: 
The audit tool helps to conduct audits of firms. It keeps a check on monetary transactions and finance.
Remote Access of Data: 
The employee can use a unique user ID and password for access. The use of remote access in Tally provides convenience.
Quick Access to Documents: 
It provides quick access to stored documents. There are different types of vouchers.
Which benefits Tally ERP offer for business use?
The Tally solution help in business in a numerous way. The benefits of Tally accounting are as follows:
To simplify accounts:
Tally provides clarity in accounting software solutions. They do an automated calculation to keep things at ease.
To save cost:
 It is cost-effective. The calculations and administrative procedures are done on the computer which saves the printing cost.
Transparency:
The absolute correct automated calculations are done while providing financial transparency.
Accurate forecasting:
This accounting software comes up with smart strategies. It is the best accounting solution for the company.
Productivity:
It provides accurate data which increases efficiency. It is a package of digitalized services.
Maintaining customer relationships:
Tally enhances customer relationship management. It provides effective billing and invoicing and makes the company look white collar.
Data security:
It offers password and administration IDs for accounting systems to keep the security top-notch. It also has user restrictions to prevent any theft.
Newsletters & Recruitment solutions:
The advancement in tally offers various job recruitment solutions. It also offers TCP certification.
Automated functions:
It is the best resource planning system. The tally accounting features are wide and it minimizes the complications while maintaining the data.
License management:
You can operate your license key automatically with the tally serial number. You can surrender it according to your needs.
Is Tally software cloud-based?
Tally is on the rise after the time Tally on Cloud has set its foot on the global level. The main reason behind this growth of tally is the cost-effective option it provides. It makes it easy for small businesses to derive various benefits with several cloud features. There is less maintenance since there's no service provider which makes sure that there's no better software than tally.
How all these features can be assignable from any device using Tally on Cloud?
Using Tally on Cloud offers various ways of accessing your data. It gives you access to the inbuilt Remote access feature for which you will need a verified tally along with ID and password. Also, a license is a must.
Tally on cloud services provider is worth the go-to choice for all the large and small businesses. It maintains and manages the finances along with E Way Bill while providing strategies for growth. This ERP system is cost-effective and offers accuracy. Also, don't worry about the changes in the GST Law as it automatically provides you with an update in case of any changes. Don't let this opportunity go by, get your tally on the cloud plan from Tallycloudhub.com today.
What are the types of accounting software?
There are three types of accounting software which are as follows:
Billing Software: It takes care of the different types of invoicing and billing records.
Payroll Management System: The tally software used in accounting

 takes care of all kinds of payrolls. It includes calculating and depositing salary, tax, deduction, etc.

ERP systems: This category of accounting system software solution handles all the operations of the firm. It includes planning, financing, accounting, etc.
What are the different versions of Tally software?
Tally software version – the year of release
Tally 4.5 – 1990
Tally 5.4 – 1996
Tally 6.3 – 2001
Tally 7.2 – 2005
Tally ERP 9 – 2009
Make sure the HTTP status code SEO level is 100 – 200 crawling on your site. Else, It can stop bots from crawling on your site which leads to a lower ranking.