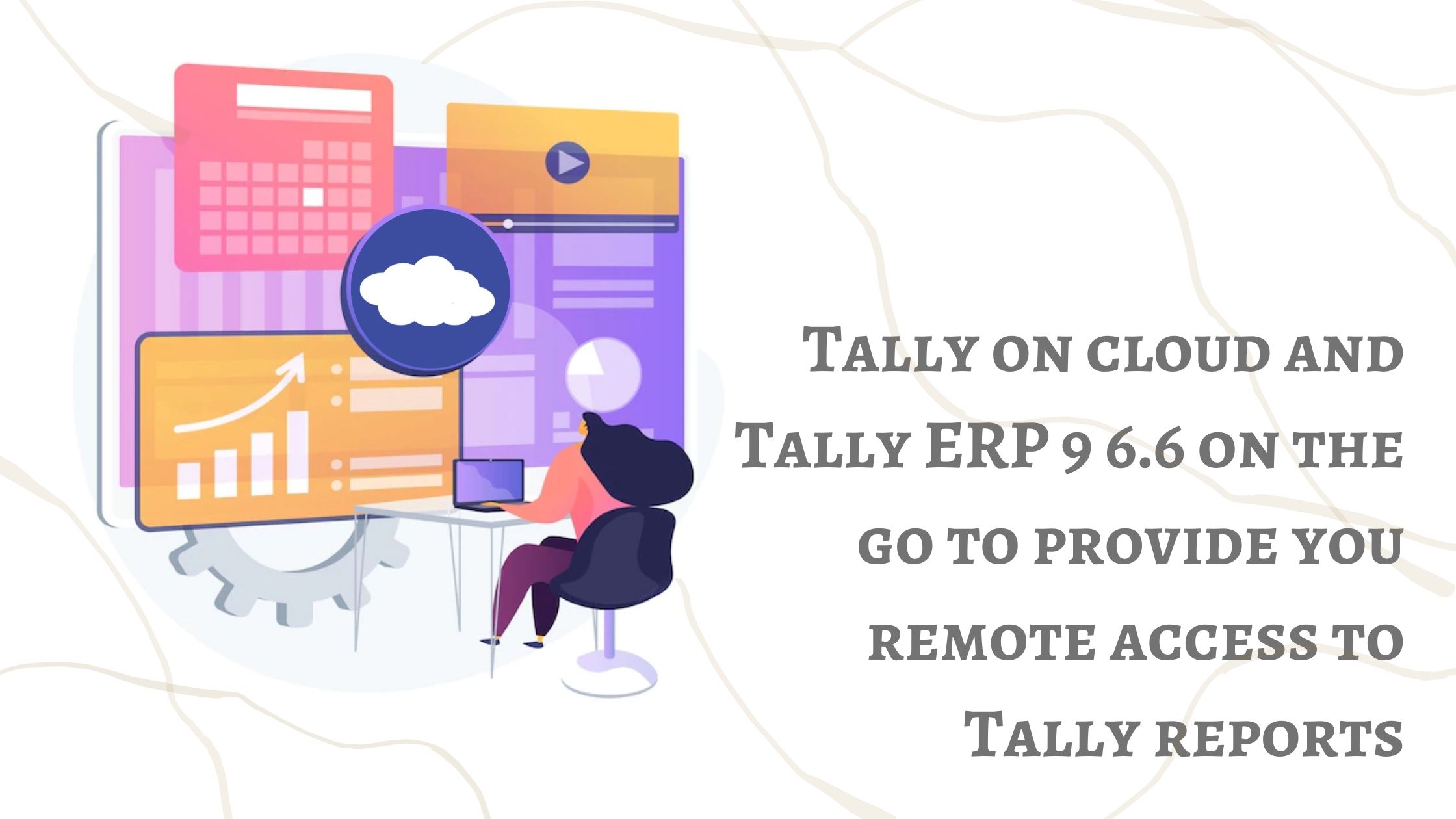 Tally on cloud and Tally ERP 9 6.6 on the go to provide you remote access to Tally reports.
Tally on cloud and Tally ERP 9 6.6 on the go to provide you remote access to Tally reports.
Tally on cloud has been in the buzz lately as businesses are needing more remote and portable solutions to make their business run seamlessly from different locations. Tally on cloud has been able to offer tally accounting software using the functions of cloud technology and has facilitated its usage from anywhere and anytime, using any device. Yes, now you can use your tally accounting software without any installations and equipment. All you need is an internet connection and a probable device to run your tally account from any different location you want to use.
How is Tally on Cloud any different?
The only and the most important difference is the difference in cloud technology. Cloud technology gives you a virtual hand using its functions of SAAS i.e. Software as a service to have access to complete software from different locations. Using Tally accounting software normally at a specific location requires all the hardware and software to run your tally account there. Whereas, Tally on Cloud enhances the performance & eliminates all the uses of hardware and software and gives a simple solution to run your tally account from anywhere and anytime. 
What changes have Tally ERP 9 6.6 made?
Tally ERP comes with advantages & recently Tally ERP 9 6.6 has made accessing tally reports from different locations easier. Its GST ready Tally accounting software has promised a technology that will do real good to many business owners. With its unique simplicity, ultimate speed, and optimum accuracy, you can access your Tally reports on the browser anytime, anywhere with full security. With Tally ERP 9, you can now extract Tally Data using APIs for business intelligence report tools.  It is the newest and the most updated version of Tally ERP 9. It comes with all the beneficial and important tools which could make your financial statement reports, CRM reports, and cash flow management reports accessible online.
Tally ERP 9 version 6.6 and Tally on Cloud
Tally ERP 9 6.6 and tally on cloud compliments each other as Tally on cloud helps you to run your Tally account and the new update in Tally ERP 9 facilitates online tally reports access. It avails you a whole package of Tally accounting software virtually through access from different locations. Now you can connect all your accountants and advisers virtually from your home.
This compatible solution of Tally on Cloud and Tally ERP 9 6.6 helps you to have an all-round package of tally accounting software virtually without any limitations to one single location or other operational requirements. You are allowed to run your account from any location you want and also with the utmost security. You can also securely store all your tally data on the cloud without any tensions of data leakages. 
Businesses are turning to cloud solutions in almost every sector to improve their data storage and data access from different locations. Cloud emphasis of Tally accounting software named Tally on Cloud is one of those modern solutions to run your tally ERP 9 remotely. Get the most affordable and reasonable Tally on cloud plan from Tallycloudhub.com today!!