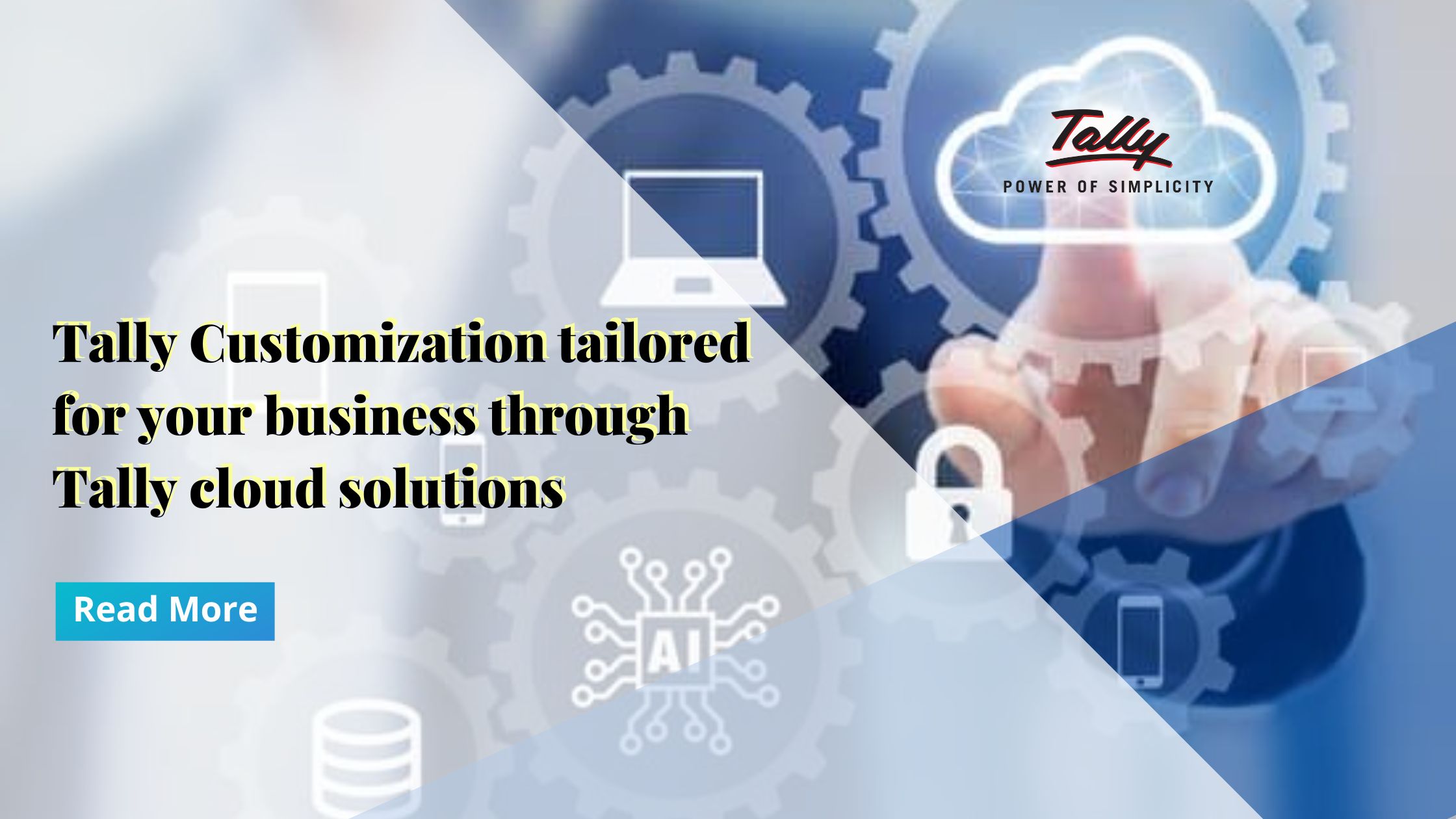 Tally Customization tailored for your business through Tally cloud solutions
Tally Customization through Tally on Cloud solutions
Accounting, reporting, and finance are integral parts of any business and its management should be of utmost concern. Different businesses have different requirements and they manage their ERP diffidently. 
We all know Tally ERP software is effective and increasingly popular around the globe. It has developed quickly by providing clients with successful accounting software. Tally ERP 9 software offers a wide variety of customization options for users to configure and alter the application's functionality to gather their specific requirements.
The reason why the customization of software plays a very important role is so that it can suit business requirements accordingly.
Does Tally on Cloud provide customization for businesses?
Tally customization is an innovative approach to meet the current demands of businesses. Customization would not simply include the default quality that one finds with Tally. An industry expert who is keeping way with the complete latest Tally accounting software can miss out on the advantages that come as part of modifying the Tally.
The business can get full Customization of Tally software. The effective Tally customization software enables you to change, improve, and personalize the functionality & features of Tally software to cut cost in accordance with your business requirements.
The outstanding add-on modules and capabilities of tally customization make it incredibly accessible and user-friendly software that covers everything from production to retail. Most importantly, Tally software and customization are simple to use and understand.
What is Tally Customization?
• Tally is accounting software that is highly famous all over India and has different versions and can be customized as per need.
• Tally is necessary for all associations whether small or large business, as bookkeeping is necessary for every piece of a business.
• The prompts unique business necessities, which are expected to be consolidated into the standard Tally programming.
• Tally ERP 9 supports ODBC and imports and export data in standard information designs like XML and CSV.
• Tally ERP 9 supports SOAP which helps with other business tools.
Benefits of Tally Customization
Every business is exclusive in its role, whether a startup, a small business, or an enterprise. Managing accounts and auditing is the most general challenges for companies. Before we realize the benefits of Tally customization let's get an understanding of the common business challenges. even if small or large business:
• Measures for Tally data security, so there is no information loss threat. It also offers excellent support.
• It offers a Tally remote access feature, so you and your workers would be capable of accessing information from any location.
• Irrespective of the business, you'll be capable of utilizing Tally in any form. It also suggests a complete payroll organization feature and is reasonable.
Why do you need Tally Customization?
Tally ERP 9 is a customized system intended to help broad Tally Customization. The latest Tally ERP version incorporates KERNEL which is a major language for development as a Tally Definition Language (TDL).
Utilizing TDL, you can upgrade or change the default conduct of Tally ERP 9. Tally ERP 9 supports ODBC and the import and export of information in standard information designs like XML and CSV. 
Use Cases of Tally Customization
Tally customization can be efficient and accessible with GST-compliant standards and can assist you well in accomplishing all the GST formalities with relief. Here are the most common use cases of Tally ERP customization improvement services:
• Tally customization presents various complete solutions connecting to income and expense booking, shipping, and cargo, & more.
• This allows you to e-sign all the records. It will assist you to have access to numerous copies of signed invoices. It will also help you in transmitting digitally signed invoices straight via mail.
• Module for school can be customized and used for everyday functions of a school, including management of finance, payroll, student, admission process, and everything connecting to the functions of a school. 
Does Tally software offer Tally customization TDL?
Tally accounting software has played brilliantly when it comes to Tally customization TDL. The Tally ERP 9 accounting software comes with upgraded version of tally and brought every sort of Customization ability for their users to configure and adjust its functioning as per their own needs. Tally ERP 9 version has focused to offer utmost flexibility in the functions of –
• GST and other tax-related functions
• Cash flow management
• Payroll management
• Bookkeeping and recording
• Finance management
• Performance analysis
TDL customization can assist you to customize the aspect of your Tally ERP 9. Applications based on windows with other online integration tools can also be efficiently kept on Tally on Cloud with the benefit of SOAP.
Can this help with Tally GST invoice Customization?
Tally accounting software also offers great features with GST compliance.  Tally GST invoice Customization offer users to have their own GST invoice format no matter how unique it needs to be. Tally GST invoice Customization can help you have customized GST bills from its software in the GST format you've set.
In fact, Tally GST invoice Customization allows you to prepare GSTR – 1, GSTR – 4, GSTR – 3 B, and many other related GST forms easily with the utmost Customization options. With unique Customization abilities, Tally accounting software helps you to create your formats. This way your business can function more effectively and with fewer expenditures.
How Tally ERP on Cloud provides the flexibility of Customization?
Tally ERP on Cloud Customization is very simple to perform and follow. In the Tally software itself, you can find options to configure and customize each function of your requirements. You can also customize invoice formats and GST functions from invoice management.
Tally accounting software is known for its easy-to-use mechanism and you'll find it very easy to customize your accounting software in whatever way you need it. Tally accounting software has touched new levels with the collaboration of Cloud technology & for transfer Tally Data on Cloud. 
Cloud technology has facilitated the things which were missing with the Tally accounting software. Installing & configuring Tally cloud solutions offer unbelievable assistance to its users along with facilitating all the Customization options which you would get in Tally ERP 9 accounting software.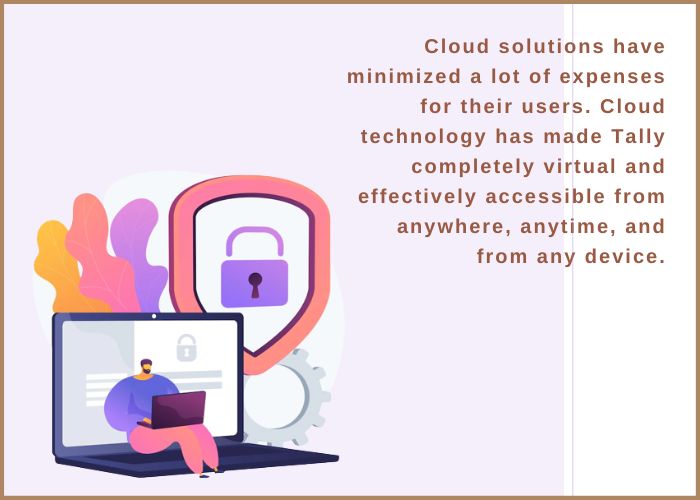 Cloud technology has made Tally completely virtual and effectively accessible from anywhere, anytime, and from any device. Tally on cloud services has various benefits and can make business responsibilities flexible for multi-users using Tally based VM and straightforward to access, regardless if you are functioning from the house and working from everywhere. Cloud solutions have minimized a lot of expenses for their users. To avail the best offers for Tally cloud solutions or for free Tally on Cloud demo, contact Tallycloudhub.com today!
Are Tally Customization and add-ons the same?
Add-ons are a kind of Tally ERP 9 personalization. Thus to realize your condition Customization or convenient add-ons are accessible.
Does the quality of a customization matter?
The quality of customization matters for all products or services. Customization when not done properly may cause a lot of issues in Tally. So, service providers play an essential role in Tally ERP customizations.