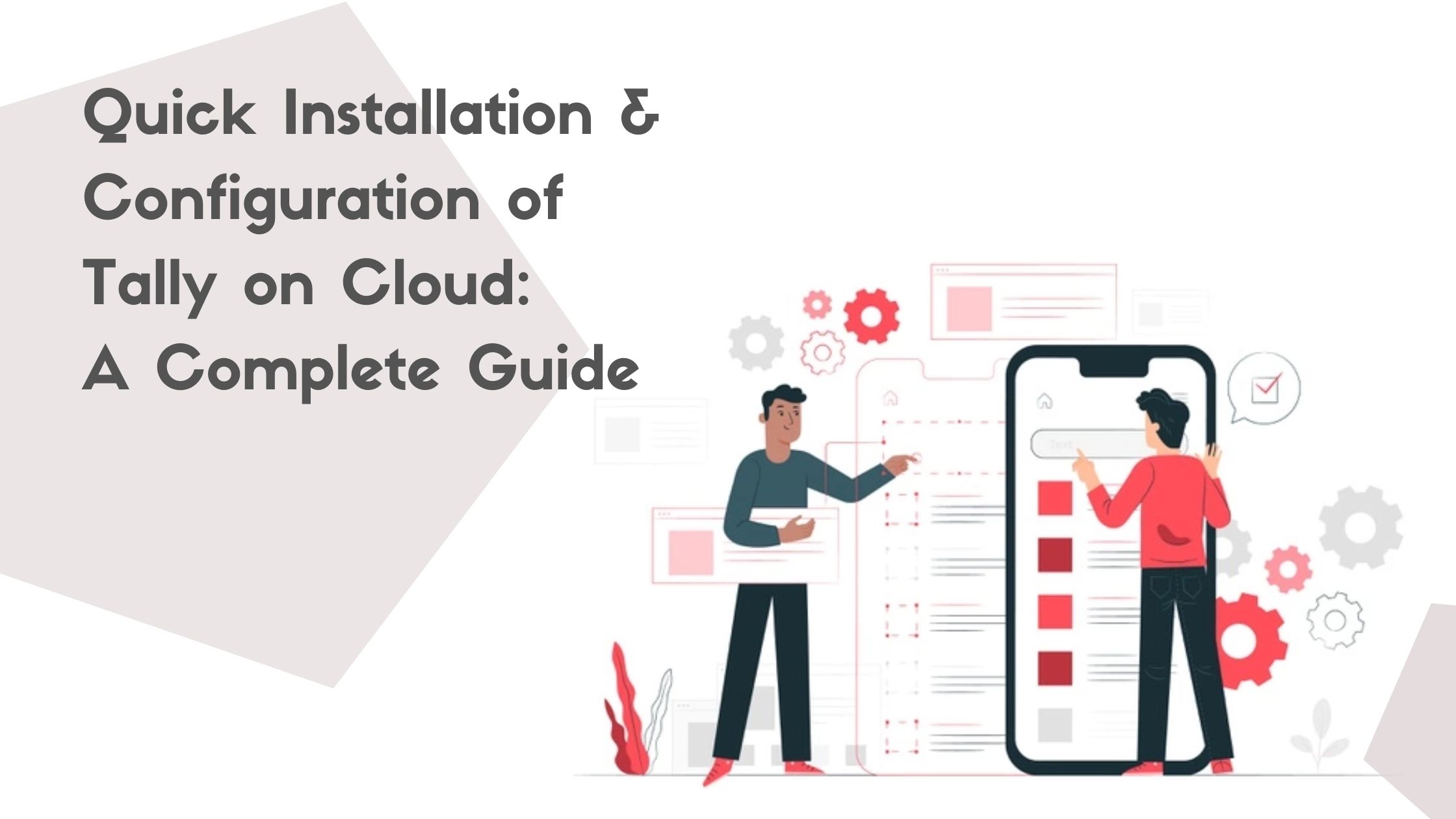 Quick Installation & Configuration of Tally on Cloud – A Complete Guide
How to Install And Configure Tally on Cloud?
When it comes to the best accounting and ERP software, Tally undoubtedly tops the list. Tally ERP is one of the most efficient software which provides extensive functionality to handle and execute all prime business demands. Components of tally are the aptest for managing finance and accounting, sales, production, pay slips, purchases, etc.!
There is no version of Tally available which enables you to operate Tally data in the online atmosphere from remote locations! Nevertheless, various cloud web tally software's are available which aids you to access Tally data through browsers whenever and wherever you require it. One such software is Tally ERP 9 Release 6.6. With this latest release, you can check Bank summaries, Daybooks, Trial balance, Payable and Receivable bills, Stock Summary, etc.
This software was developed by Tally Solutions as an enterprise resource Tally on cloud solution to manage everything from payroll to finance and accounting on a daily basis. In the further article, you will learn about can tally work on cloud? how to install Tally on Cloud or install Tally prime on Cloud? Tally cloud setup? how to configure tally on cloud effortlessly? Nonetheless, Tally or Tally prime setup can be a tedious task for many, but don't worry we got you covered!
We at Tallycloudhub, look forward to providing the best Tally Online to aid you in managing and running accounting sources from a distant location atmosphere.
Can Tally be used on the cloud?
• Cloud Tally is possible to set up, install or host any Tally cloud computing to execute it as a SaaS-based application. Cloud computing SAAS feature makes the operation of Tally on cloud/ Tally Prime installation very smooth.
• The online work on Tally ERP 9 supports access to data on Tally from any device and multiple locations concurrently.
• By using Tally on Web, one can gain financial and accounting data from Tally at any given time or place.
• Hence, although it cannot be used on Cloud you must still opt for configuring Tally ERP 9 on cloud considering its amenable and apt features.
Why configure Tally on Cloud?
Cloud computing SAAS feature extensively provides the functionality of hosting the Tally cloud-based for Tally Cloud single user. This feature also allows multi-user to access the business essential data via Tally Based VM around the globe! Furthermore, Tally ERP 9 operating on the cloud permits access to various users of Tally to simultaneously use the same account from different locations.
How to host Tally on Cloud? Amid the pandemic, many people were stuck in their homes. In such times, configuring Tally on Cloud or configuring Tally prime on Cloud makes Tally work from home seamlessly easy. It also helps one to grant remote access to multiple users who use the same accounts from different corners of the world. Due to these flexible Tally on Cloud features, you need not worry about hiring an extra IT team to manage your tally.
How Tally on Cloud is configured?
• You can opt for any hosting of Tally Online on a cloud server that fits your pocket the best. All you going to do is connect with the cloud service provider and within a short amount of time, you will get your version of  Tally cloud server. Tally configuration setting and surveillance needs will be taken care of by your Tally cloud service provider regularly.
• As a user, you should select a dependable cloud service provider that fits your needs and can guide you through every aspect of Tally on the cloud, like the tally remote access, hosting, installing, setting up the software, etc.
• All your sources of Tally remote access are handled efficiently without any kind of leakages and are backed with broad experience of Tally cloud service providers.
Whether it be customer support or the security of your Tally account data, we at Tallycloudhub take utmost care to provide you with the best experience possible.
• With our affordable range of Tally on cloud plans, you can select just the perfect plan for configuring your Tally online version. Along with automated backups at regular intervals and Tally customizable plans, we look forward to delivering you the perfect Tally cloud solution required.
What are the prominent benefits of Tally On Cloud?
After the installation of Tally and Tally cloud login, a user will get to endure the subsequent benefits of Tally on Cloud:
• Security Level: High 
• Data Availability 24*7
• Tally for all the devices like Mac OS, Linux, Windows
• Data Backup and Encryption support
• Tally Disaster Revival 
• Cost-effective & Convenient Servers
• Uptime: 99.995 %
• Flexible pricing schemes
• Expandable Infrastructure
• Zero or Low Latency
• Tally reports now on web browsers
• Maintenance Cost of Server: Nil 
What are the features of Tally Hosted on Cloud?
Exceptional Features of Tally Hosted On Cloud are as follows:
As your entire data is on the cloud, security is of utmost importance for cloud based Tally. Hence except for the approved people, no one can access your classified data. Tally ERP 9 user access control offers 360-degree security from any security breaches.
As Tally software runs on the cloud and is very efficient to gain the Tally data at any given time or place. Its availability is 24*7 which makes Tallying so much more effective.
•
Tally on Cloud for mac, windows, and other compatible devices: 
This accounting software is compatible with any device. Tally can be installed on Mac, Linux, Windows, MacBook Pro, and any older versions of Windows or other laptops by apple. Tally ERP is also compatible with every RDP-based thin purchaser.
There is a default function in the Tally ERP, it automatically saves and backs up your tally data whether on your local device or the cloud as per your inclinations.
•
Tally on cloud multi-user access: 
The same tally account can be observed and mended by multiple users in a real-time environment. This increases the productivity of the businesses. The mended data can be easily synced and printed on reports simply.
If your business requires expansion in terms of the space for the Tally on Cloud server for whatever reasons it can be done very swiftly as its infrastructure is scalable. Therefore you can control your resources concerning your business needs. While doing so nothing on the previous software will be compromised.
Very soon the Tally cloud version is going to bring about a transitional alteration in the way people use their accounting software. The adaptability, remote access, backups, and security provided by Tally on the cloud make accounting even more effortless. The best part is once Tally installed you can access tally data from any distant location in a real-time environment!
However, the greatest trouble for any business/organization is How to configure Tally on the cloud? How to install Tally on Cloud? How to use Tally on Cloud? But don't worry! You can host tally today on our cloud environment and all these technicalities will be carefully handled by our Tallycloudhub experts!
Check out our free tally on cloud demo right away! Don't miss this golden opportunity to avail Tallycloudhub Tally Cloud Service at the best tally on cloud price! So what are you waiting for? Install Tally ERP 9 or set up Tally Prime on Cloud and enjoy seamless functioning with us!
How to install Tally ERP 9?
Tally ERP 9 install is one of the easiest processes you can ever come across. You can either access the software from the downloads page on the Tally Website or you can install the app using the CD installer. Tally is compatible with Linux, Mac OS, and any windows operating system. Further to setup Tally ERP 9 in your device follow the subsequent steps:
To install and run Tally ERP 9, double click on the installer icon.

If you don't want to install it on your default locations, change and select the folder path for installation.

For selecting the country and startup language or altering the data directory click on the advance button.

Click on Check to get the latest version of the Tally ERP 9. Then Click on Install Now, this will result in downloading the latest version of the software/application.

Click on Install so that it gets installed on your desired device with the latest version that you have downloaded.
Do you still need a Tally license?
Of course yes! This Tally license is not only the access to your Tally Account but also is a permit card to allow multiple users to use the same tally account from different locations or devices. Meaning that you save a huge cost on having several tally licenses for different locations/users and devices.
How to access Tally in mobile?
To access Tally on Mobile is just like installing any app on your mobile. You just need to access your invoices, along with the ledger report and GST invoices on your mobile. You can easily access it on your mobile if you own a legitimate Tally license with a Tally account. Then you just require to run and record your tally account with Tally ERP 9 data and compatible GST. Rest resources for managing your Tally online version will be handled by the cloud provider.