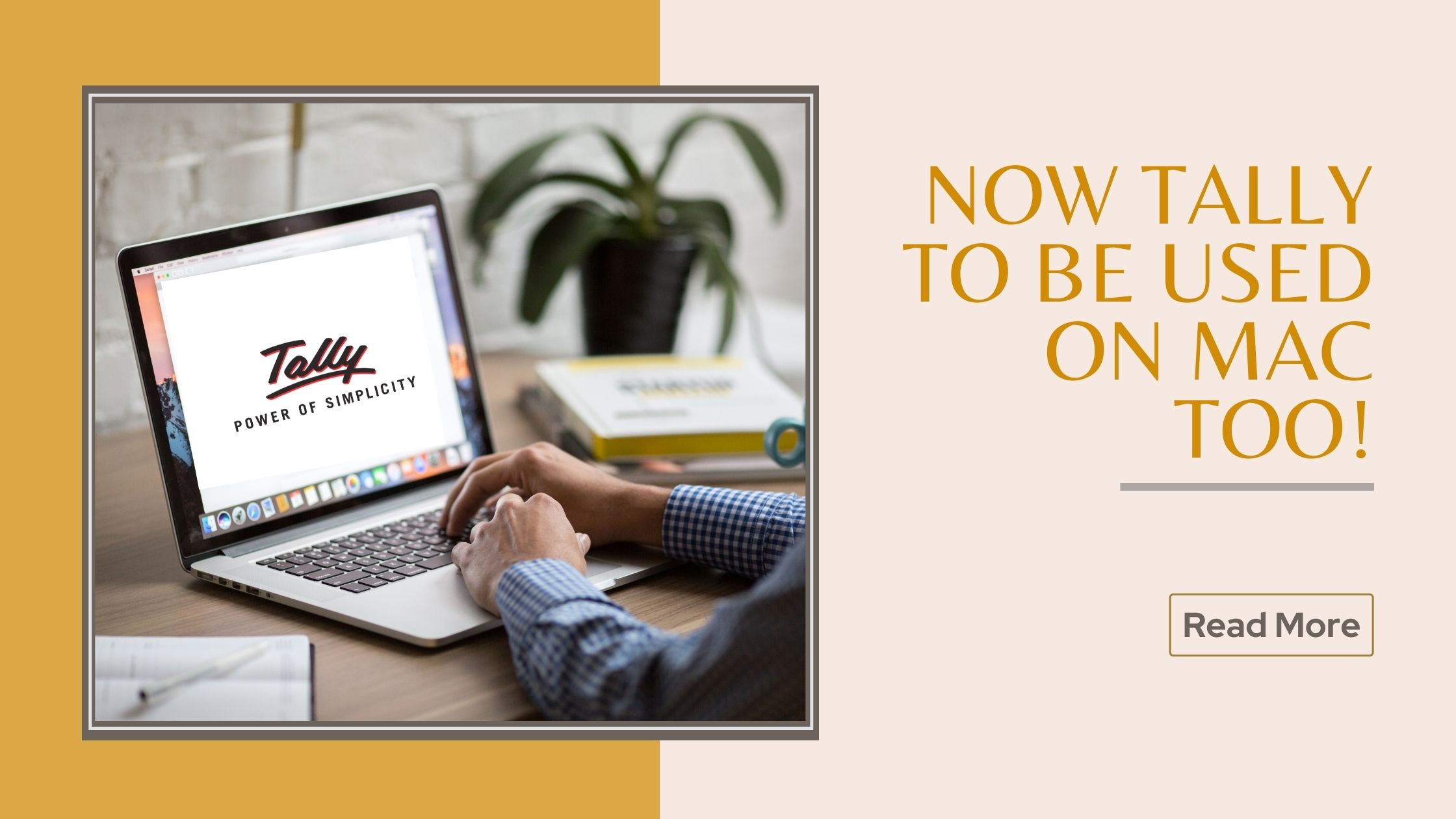 Now Tally to be used on Mac too!
Users of the Windows operating system find it fluent to work on Tally solution but what about the others? The users other than Windows users like Mac users may find it difficult to comply with Tally's support. This makes them unable to download or use Tally on Mac or Tally prime for Mac. But with its effective and productive functions, it avails, accounting software Tally on MacBook. Keep reading to know-how.
What is Tally ERP accounting software?
• Tally is a GST-ready windows based solution, developed by Microsoft to support Windows-based systems.
• Tally ERP software, the famous accounting software is used widely by many businesses.
• It has been the go-to system requirement for all the accounting and auditing purposes of the businesses.
• Tally ERP 9 is used worldwide as it has many advantages & is an efficient solution and, yielding maximum performance at minimal time and affordable cost, giving extra security.
Does Tally ERP solution work on Mac?
Yes, the Tally ERP 9 application is compatible with MacBook. Tally accounting software is possible to run on Mac only with some indirect techniques.
Want to host Tally Prime or Tally ERP on Mac? Connect with our Tally Cloud experts & get the set up in few minutes.
How to Install Tally ERP 9 on Mac OS?
As we know, there is no dedicated way for accessing Tally ERP 9 for Macbook. However, there are four indirect approaches to download or run Tally software on Mac. Tally for MacBook platform can be installed in four different ways.
1. Dual Booting or Split The Hard Disc
2. Virtualization Technique
3. Crossover & WineBottler
4. Tally on Cloud
#1: Split The Hard Disc or Dual Boot Mac OS Client Machine
Boot Camp is a boot loading tool that allows you to install Windows operating system on your Mac machine. It is a method in which you can access two operating systems. You first require to make a partition on your Mac hard drive and install the Windows operating system on it where you can download and work with the Tally software. You have access to all Tally ERP 9 data files in the parallel space when you select Windows OS.
Advantages & Disadvantages of Dual Boot:
Advantages:
• Tally ERP 9 and other non-compatible applications can be used on Tally Mac OS.
• Using two systems to run two separate applications saves the cost of hardware.
Disadvantages:
• Limited Storage.
• Stored, downloaded, or modified files on one OS cannot be accessed on the other.
#2: Virtualization for Tally On Mac
Tally ERP can be downloaded using programs like Parallel Desktop and vBox, which allow you to build a virtual machine (VM) on your Mac. You can install Window OS and run Tally in that virtual machine, just like you would do with dual booting.
Advantages & Disadvantages of Virtualization:
Advantages:
• You would be allowed to use the application of Windows software on the Mac platform and the application of Mac software on Windows.
Disadvantages:  
• It's likely that you'll have speed issues.
• Swapping between the two operating systems is challenging.
#3:- Crossover or WineBootler
Tools like Crossover or Wine enable you to run Windows applications like Tally ERP on the Mac OS platform. This technique develops a layer between the Windows program and the Mac Operating System.
Advantages & Disadvantages of Crossover:
Advantages:
• There is no need to pay for a Windows license.
• It offers versatility and eliminates the need to install the operating system.
Disadvantages:
• It's difficult to install and configure because it doesn't support the newer Tally version and needs to perform the whole installation phase again.
• Unsure if it would work 100% or not.
#4: Use of Tally On Cloud
With the use of this efficient technology, a term called Tally on Cloud. Anytime anywhere access granted by cloud technology allow Tally users to use their Tally account or Tally prime in MacBook.
Though with the help of the advanced technology of RDP, everything is possible. But, can we use Tally in MacBook? Yes, Tally on Cloud for mac can be used virtually anywhere, anytime, using any device of any OS. Yes, your Mac can feature tally with the help of the RDP client. RDP is the Remote desktop Protocol that uses virtual technology to run your Tally Mac.
This RDP function is enabled by your Tally on Cloud service provider who specializes in preparing a cloud infrastructure that can be accessed by any OS using RDP client. Once you start your RDP client, your Tally account starts automatically. Your service provider would give you all the URLs and other credentials for regular access to your tally account.
Advantages & Disadvantages of Tally on Cloud:
Advantages:
• Easy to use with just cloud infrastructure and an active internet connection.
• Data in real-time.
Disadvantages:
• You will be unable to function if you do not have access to the internet.
Why to choose Tally on cloud for Mac?
There are a number of reasons why Tally Cloud for Mac is the right approach:
Effortless Configuration: Install RDP, insert Tally credentials, and use Tally ERP for Mac or Windows operating system. 
Save Time: No need to install complex software and tools. It takes less few minutes to set up and get started.
Remote access: Operate from anywhere, at any time, and in any place. No need for a fast internet connection to run tally on mobile platforms and can be accessed on 3G networks.
Performance: Efficient Tally cloud server ensures that your application is always up-to-date and operating without exhausting MacBook's resources.
Auto-Backup: Data backup is made easier with cloud hosting. Tally ERP data can be securely and automatically backed up on our stable and securable servers.
Tally on Cloud is gaining popularity increased among many large and medium-sized businesses. It would be highly recommendable to employ Tally on Cloud for your Tally ERP functioning on Mac. Get the most affordable and reasonable Tally software on Cloud Plan from Tallycloudhub.com today!!
What are the benefits of Tally on Cloud?
Tally users can benefit a lot from the services of Tally on Cloud:
• You can run your Tally account from anywhere, at any time using any device with any Mac or window-based devices.
• You are assured with zero performance lags with less usage of bandwidth, saving your time, and efforts at the same time.
• Save all the costs on hardware, software, applications, IT team, etc.
• The service provider manages with their superficial experience, brains, and techniques the regular functioning of your Tally ERP.
Can I install Tally for Mac?
Yes, any version of Tally accounting software can be used on the Mac OS system.
How Can I get Tally on Mac service?
Connect with our Tallycloudhub's experts along with your requirements or query on Chat or WhatsApp or on +91-9319877769.