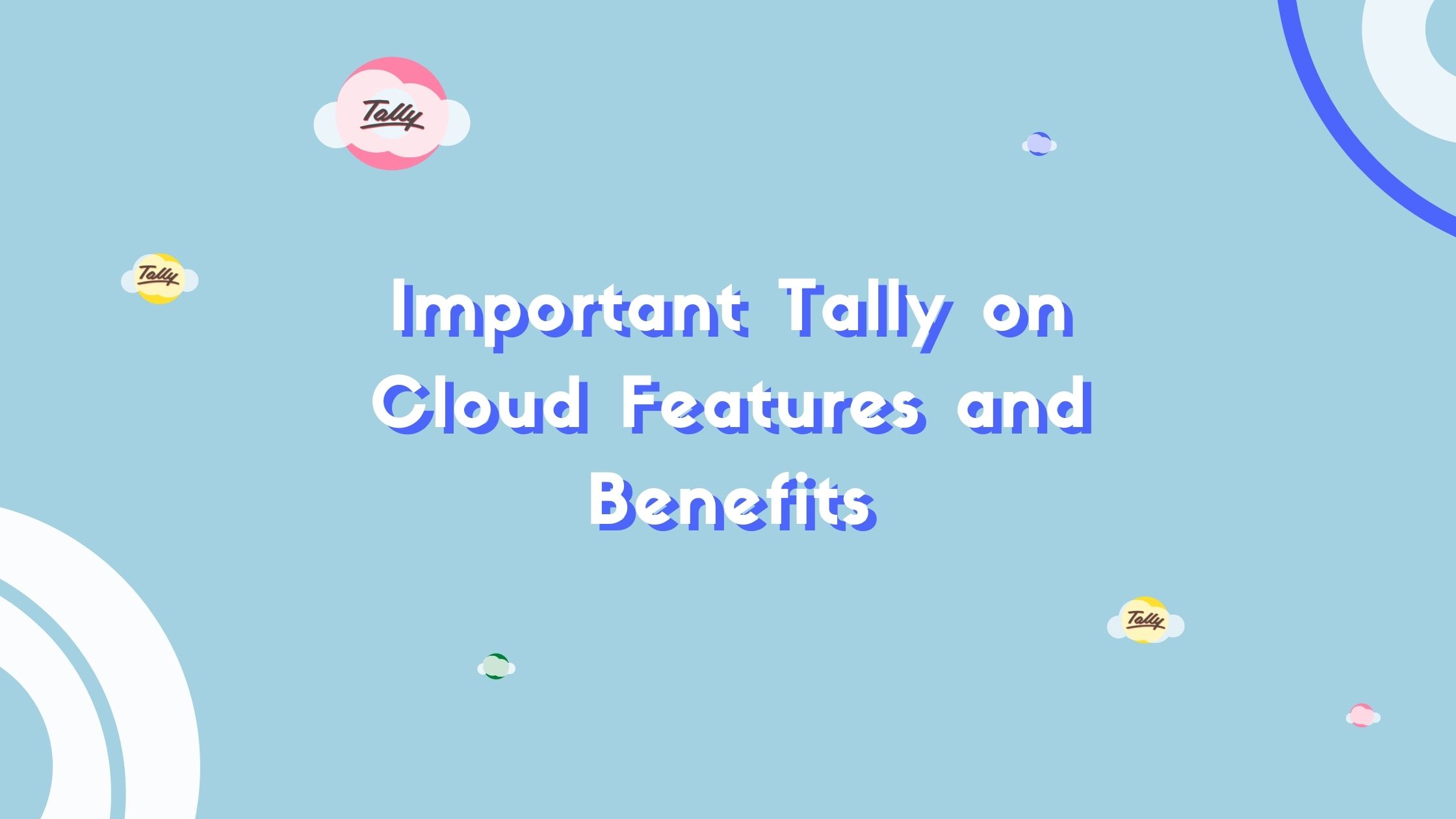 Important Tally on Cloud Features and Benefits
Tally ERP on cloud: The Future of Tally
Tally on Cloud is now being considered and admired worldwide because of its utmost efficiency and convenience it has provided to all the tally users. Now, tally users can access their Tally reports, record transactions, and manage resources remotely from different locations without any requirements of extra software or hardware.
What is cloud-based Tally ERP?
The amalgamation of cloud technology has developed this virtual and more effective mode of Tally ERP accounting software on cloud computing. Hosting Tally on cloud servers has enabled a more secure and accessible way.
It helps accountants, book-keepers, managers, and other businessmen to maintain their financial books and at the same time manage enterprise resources. With this easy and effective tally on cloud solution, businesses can run effectively and focus more on their productivity.
Best Benefits of Tally on Cloud:
It is not mandatory to install Tally software on every local system through which you are using Tally.
You won't need to have any driver installation for taking out printout on your local computer.
You can take your printouts directly on your default local printers.
It becomes the utmost feasible as it allows you to have your own customization and configuration file.
Work-hour restriction can also be set for users to restrict their tally usage.
No burden of any server or hardware maintenance as everything is taken care of by our experts.
Your centralized data is saved from all the internal and external data threats with multi-layer security.
The performance, up-keep, management, and security of the cloud server hosting your Tally accounts are managed by trained professionals.
Best Features of Tally on Cloud:
Anywhere, anytime access through easy access on any web browser.
Tally hosted on the cloud allows using any Tally version online on Mac or Window devices.
Your tally reports and other tally data can be exported easily to your local hard disks.
Facilitates automatic Tally backup for all your information.
Offers excellent uptime and performance by our cloud server to facilitate your tally functioning seamlessly.
Tally on cloud solutions will be compatible with all kinds of operating systems.
It is of utmost security blocking hacking attacks from other blocking IPs.
Utmost authorization is required for access making it more secured.
Users with login credentials and addresses allowed can only get access.
Optimized speed and performance due to efficient and Industry best cloud server hosted by TallyCloudHub.
Why is Tally on cloud considered as a real boon?
With the efficiency of Cloud technology, the remote working function has become more optimized and effective in performance. With the new situations coming in where remote work locations and work from home culture is coming to more significance, buying technologies like cloud computing are going to come out as a real boon to all the businesses.
Tally accounting software on cloud has given businesses the advantage of accessing their tally account from anywhere, anytime, using any device. Also accessing tally reports and tally data from different locations has also become more convenient and secured. With the assistance of cloud technology for your tally, the cloud experts take care of every detail with their professional support. 
To avail of the best offers on Tally Cloud plans or for Free Demo, contact TallyCloudHub today. We here at TallyCloudHub are experienced tally on cloud service providers who are known for our industry's best cloud services at affordable price and management of top quality.
Is GST Ready Tally ERP available on the cloud?
Yes, all the GST reforms are supported by Tally hosted on Cloud. Tally on cloud also offers the feature of downloading or printing GST reports as per user needs.
Can cloud-based Tally be used on mobile?