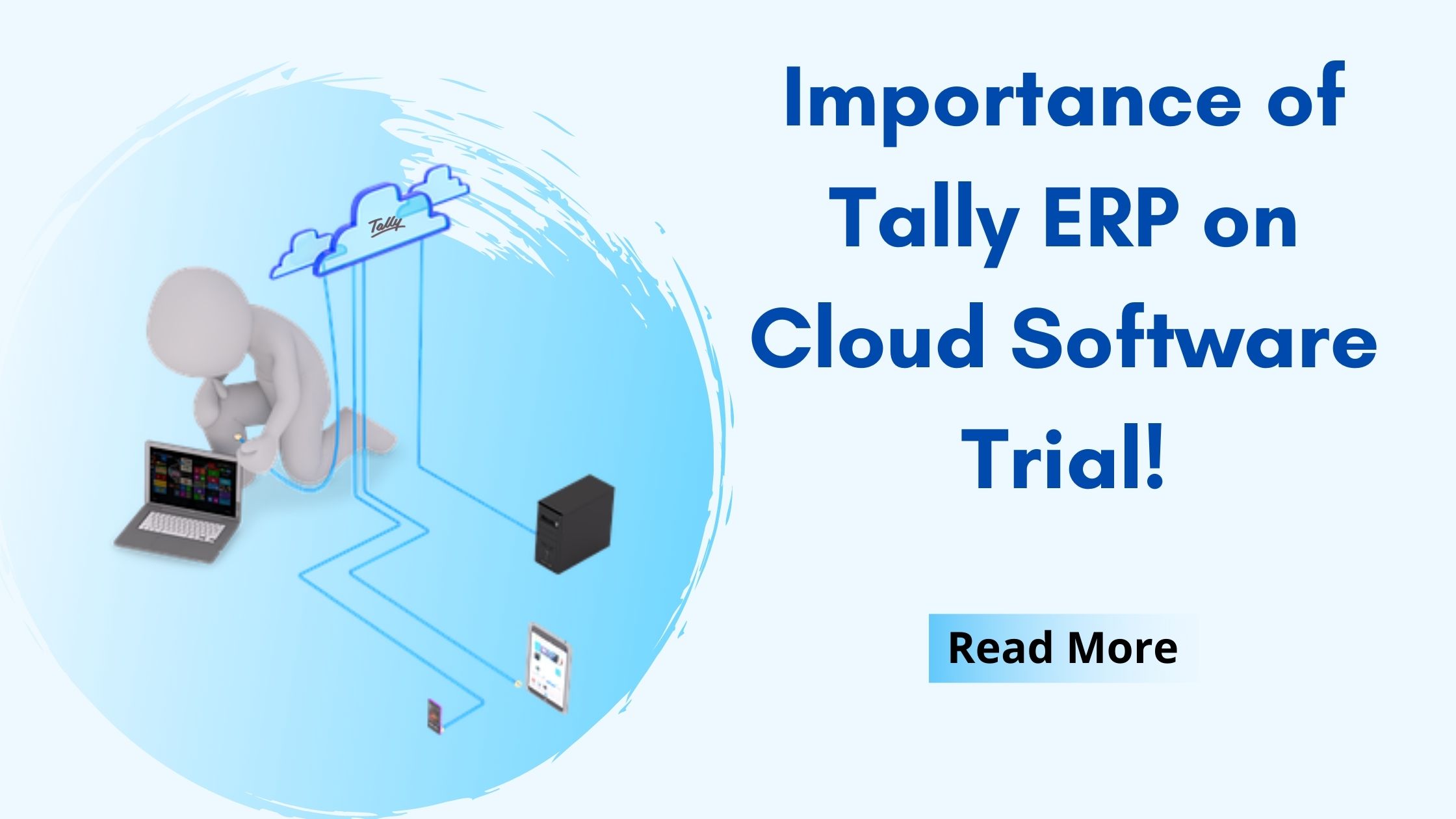 Importance of Tally on Cloud Software Trial!
Tally on Cloud software Trial
Tally on cloud solution is available for Free Trial. How to avail of the opportunity? What to expect from the demo offer? We will be discussing every detail below.
How Tally on Cloud makes Tally ERP 9 more efficient?
• The amalgamation of Tally ERP 9 with cloud technology making it to be Tally ERP 9 on cloud has leveled up the Tally game to a different scale.
• With the assistance of cloud technology, now Tally can be used from anywhere, anytime, using any device.
• Hosting Tally on cloud solution has made the handling of Tally smooth and flexible.
• This Tally accounting software on cloud server is facilitated by a centralized server that helps you access your tally account virtually from different locations anytime.
• This store & backup your important tally data from anywhere to the centralized server.
• This makes you flexible to use your tally account and access tally data from different locations, even using different devices.
Can Tally ERP be installed on Mac?
Features of Tally on cloud also do not limit itself to Tally on Mac, as the tally on cloud solutions also supports Tally to be used on Mac effectively. TallyCloudHub could guide well to help you have access to Tally cloud solution on Mac and facilitate your Tally on Mac easily. Users can utilize the identical features of the software.
What is the importance of Tally on Cloud free trial?
• We all need trials and samples to test something and build trust.
• Check whether this business accounting and resource management Tally software on Cloud could be compliant and feasible for your functioning.
• It is important to understand and interpret for the first few days to assess whether you like the software's performance on Cloud or not.
• Yes, you get a chance to try Tally on Cloud for free for the first 5 days.
• Tally downloads have been very easy and with Tally on cloud solutions, your tally could be downloaded easily to whatever device you are using.
What does the free trial offer?
• In the first 5-day trial of tally accounting software on cloud, you are availed to use every feature and function.
• You can use any demo data and content for the users to try using the cloud free for the first 5 days.
• This online data can also be copied and pasted to other appropriate locations.
• Users can also apply different features using the demo data for a better understanding.
• You can also find various tutorials and education lectures on Tally website if you want to learn tally and apply your skills in these 5 days cloud trial.
How to get a free trial for Tally on Cloud?
• Visit Tallycloudhub.com.
• Under View Demo – Register for Free Demo.
• Our Tally Cloud Expert will connect on the details provided by you for scheduling the demo.
After the 5-day trial ends, if you like the software and would like to consider, then your tally license automatically moves to a different version called the education version. It is user-friendly with simple access. Also, you will be updated when you have to purchase a licensed version of Tally ERP 9. To register for free demo or avail of the best offers for Tally ERP on cloud, contact TallyCloudHub today!
Why Tally ERP is the one-stop solution for business needs?
• Tally Accounting software has undoubtedly been the go-to accounting software for businesses today.
• It has promoted an easy, secure & convenient way of accounting, bookkeeping, vouching, and other resource management activities.
• Tally accounting software helps you maintain records, calculate GST, manage inventory and other resources, ease billing processes, and whatnot.
• Tally ERP 9 has streamlined all the business finance and bookkeeping along with resource management needs and have given more time to businesses to focus on their businesses.
What are some of the awesome features of Tally on Cloud?
Tally accounting software on cloud server offers numerous features for business growth. Some of them are mentioned below:
• Accessible on any device 24*7
• Automated Backup
• Install or upgrade your Tally Version on cloud
• Offers installation of the centralized printer
• Support Tally Customization (TDL)
• Sync locations for centralized Data
• Provides security With Multi-Layer
Check Out More Tally Related Blogs: