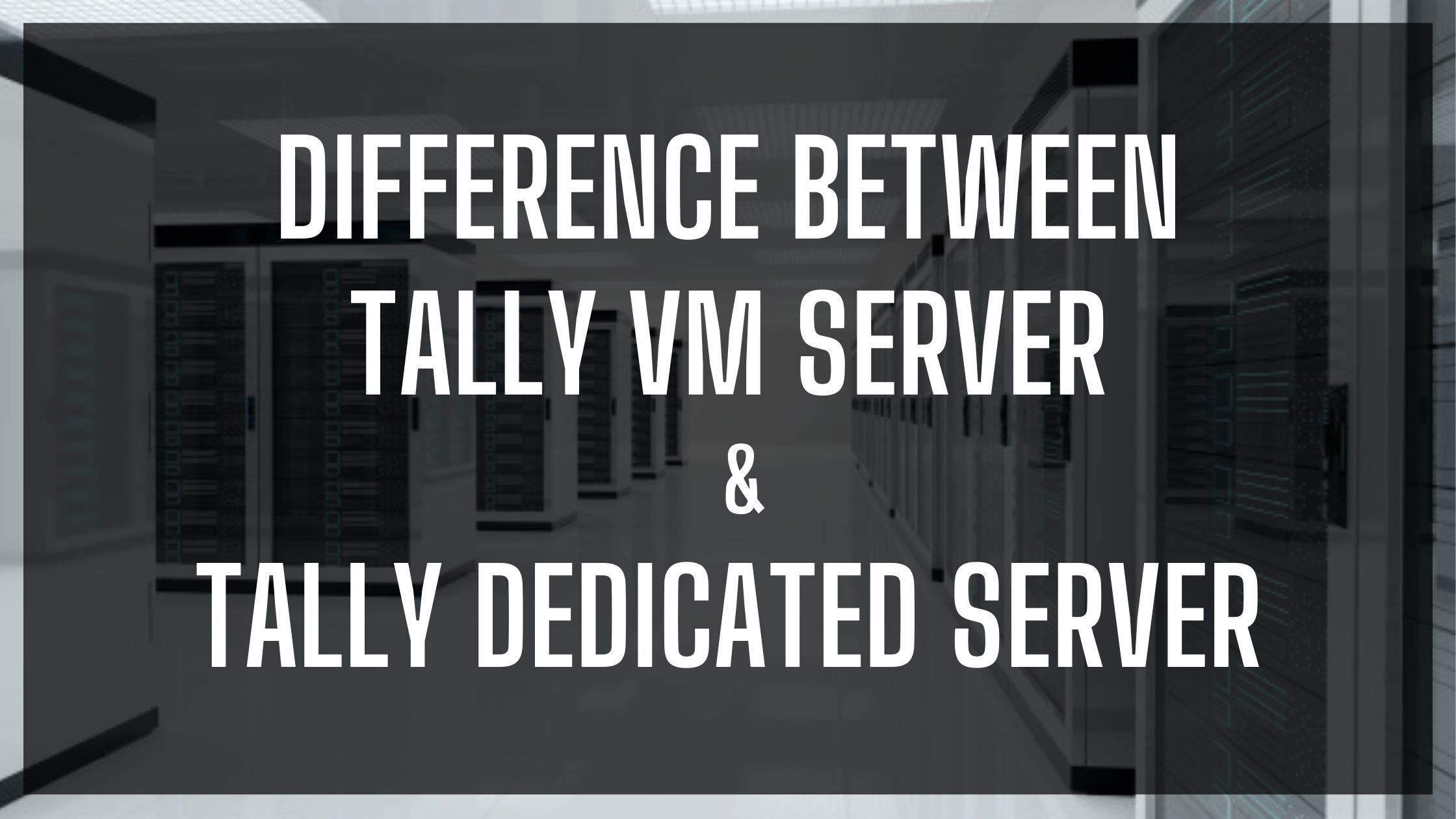 Difference between Tally VM & Tally Dedicated server
​

Tally VM vs. Tally Dedicated Server
Nowadays, cloud servers have taken over the entire world when it comes to data storage and servers. This is because they are comparatively faster and data is managed automatically. However, there can be many types of servers.
In this article, there is a discussion made regarding Tally virtual machines and a Dedicated server. By the end of the article, you will be clear why each of them has its importance. Later there is also a discussion made regarding Tally SaaS schemes. Let us dive deeper and know everything related to dedicated and virtual servers. 
Long story short, Tally Dedicated Server helps the users to operate remotely VMware platform as it belongs to a particular individual or an organization. Apart from this enters the Tally Based VM servers, which help in giving fully, equipped virtual functionality to the environment utilizing virtualization. 
Tally on Cloud has shown amazing performance for both data reliability and speedy work. Tally on Cloud benefits led to solving many issues and therefore providing a good framework to the organizations or the individuals to work. 
Talking about the Tally-based Virtual Machines; it is pretty much like a virtualization technology that lets the VM servers provide a well functioned and equipped virtual environment. Tally-based VM is said to have 2 modes: these are a) Paravirtual mode and b) Full virtual mode.
The paravirtual mode is made so that all the programs in a computer can perform in a platform-independent manner in the environment whereas full virtual mode is designed for the real system and can work as a stand-in function.
What are the features of Tally-based VM?
A VM based on the tally has many necessary features that are required by the users. Some of its outstanding features include:
An infrastructure with dependable equipment: a Tally VPS server 

is well equipped and has fault tolerance with a reliable foundation providing a productive infrastructure.

 

Trusted with the data centers: all the data here is safe and secured thus, making it reliable. Users are allowed to access it from any place anytime with no particular device restrictions.

 

Automated techniques: with the involvement of rest API in the interface of the application, users enjoy the benefits of automated tasks in the 

cloud infrastructure. 

These can include virtual machines or networks and sometimes data centers.

 

Dedicated Internet Protocol: 

Real-time monitoring 

is served thanks to the VPS server present with the static Ip address connected externally. Mostly it is free when accessed from outside. 
What is Tally Dedicated Server?
When it comes dedicated server, it can be explained in simple language i.e., it is a kind of remotely operated server and runs on a physical machine. The best part is it is usually used by private organizations as this type of server is completely for the single person or an individual organization. This ensures the safety of data within a company or affiliated to that person as everything is private and not shared with anyone else. 
What are the features of the Tally Dedicated Server?
There are many reasons why a Tally Dedicated Server is high in demand by many large organizations. Some of its exclusive features are:
The facility of auto backup and transfer: Tally on Cloud provides its user a facility where their data gets backed up automatically. This is good as no manual backup is required and migration issues do not occur on the Tally server.

 

Amazing high speed provided: when it comes to Tally on Cloud, it provides a dedicated channel for data transfer resulting in high speed.

 

All-inclusive: the most beneficial feature of Tally is it provides the facility of All-inclusive 

when one opts for the service. This means good remarkable storage is provided with verified user access and of course time to time backups with 24 x 7 support from the team.

 

Better and maximized uptime: there are given tools for the professionals that make sure the operations carried out are speedy and are reliable when it comes to dedicated servers.

 

Tally customization: customization of Tally

 is also available in a dedicated server as such.
Difference Between Tally VM & Tally Dedicated Server
Many points are unique in themselves to make a difference between a Tally virtual machine and a Tally dedicated server. Some of the key differences are pointed below. This will help understand both Tally VM and Tally Dedicated servers better.
A Tally Dedicated Server is a kind of physical machine but the tally virtual servers have nothing to do with the physical servers but more about the software package
A Dedicated server is for single-tenant whereas a virtual server is for the multi-user tally. The users can select the same as per their requirements. 
Third and most important for the dedicated servers, virtual servers are mainly there to access when the resources are getting shared among several virtual servers. Apart from this a virtual server also deploys a software package. 
Sometimes virtualization can lead to performance issues. This happens because of the contention of available resources. But this is not the case with the dedicated servers.
As the name says, Dedicated server is only for the client where he or she can have access to the hardware but virtual machine servers are not like that. resource contention is a major issue here as many users try to access the same resource at the same time and thus, it can be said that it is multi-tenant. 
Last but not the least, Cloud computing plays a major role in cloud server management. Companies provide facilities to the customers with Tally Dedicated Server and Tally VM Server. For resolving the performance or any other issue one can always go for hiring a cloud expert organization like Tallycloudhub that provides their client with an expert team. This team is believed to provide reliable solutions to the client and help in data management related to the company. Many of the online sites often provide a free trial. All you need to do is enter your details. Next everything from data security to data maintenance and migration is the responsibility of this expert team.
Tally on Cloud provides data security and privacy. The user gets to enjoy exclusive features. All automated Tally on Cloud means making it convenient for clients to work hassle-free with the data.
Can you use tally on a dedicated server from anywhere?
Tally Dedicated Server allows the user to access their data from anywhere and anytime because they are remotely operative. Thus, providing a facility to the client to access from any location with remote On Cloud. 
Will tally data update in real-time?
Centralized REAL-TIME DATA helps in updating the data to the servers in real-time. Tally License is important for the organizations that provide tally services. 
Virtual servers are typically more scalable, flexible, and agile over a short period of time. Looking upon the dedicated servers the major benefits about them is power and performance. The dedicated servers are also known as Bare Metal servers.