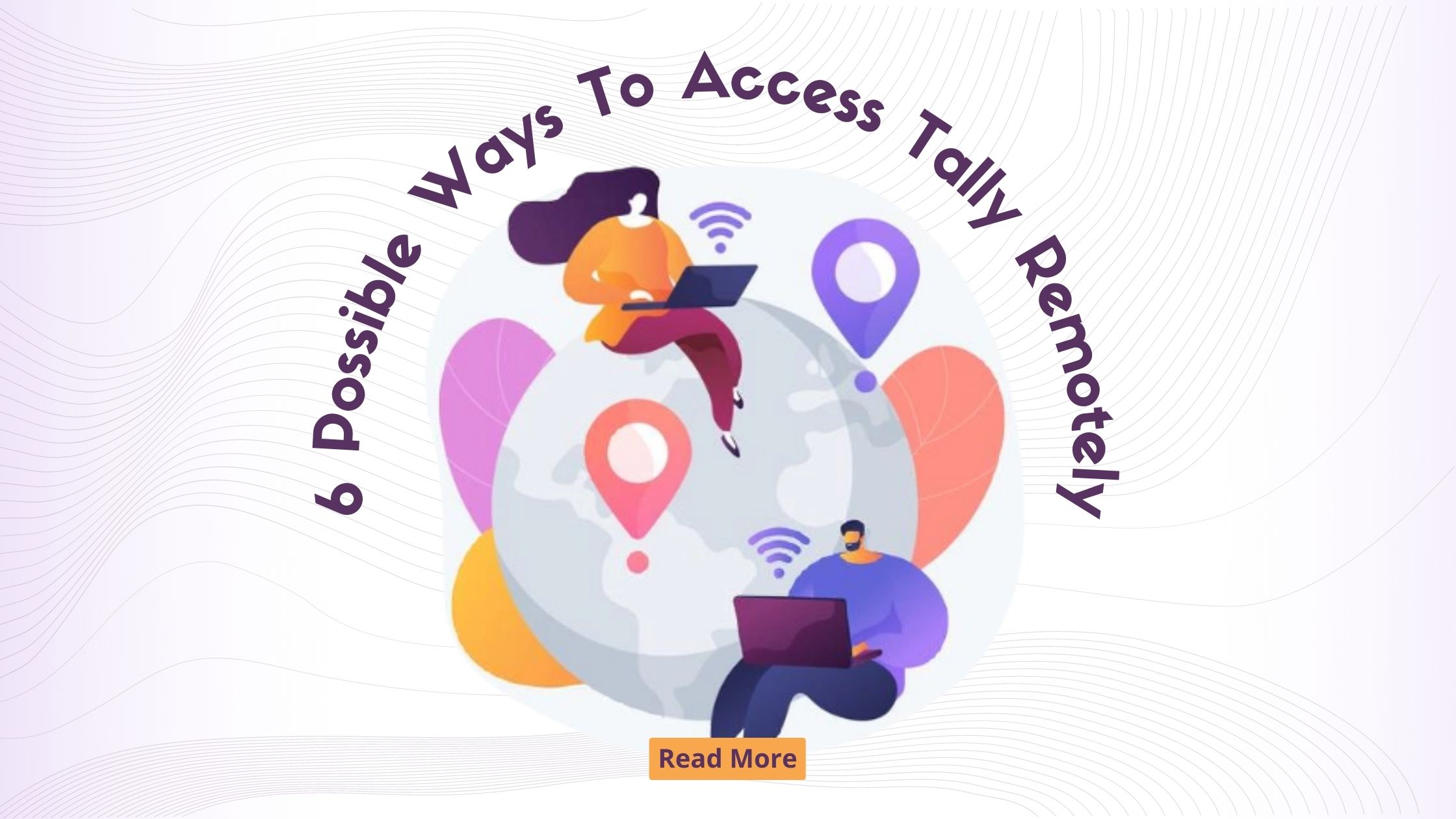 6 different ways for Work From Home on Tally
Tally ERP has been providing simplified accounting solutions for a long time now. It has never missed the opportunity to amaze its customers with new updates in the software. The latest release of Tally ERP 9 version 6.6 user can use Tally in a virtual environment and it is based on the concept of remote access ERP software and is based on the concept of remote access ERP software.
Organizations can work efficiently with the introduction of accessing Tally software or Tally Prime online access from remote location. It provides you with the feature of remote login, what do you understand by remote login? Remote login means tally accounts can be accessed from anywhere at any time provided a person has valid login credentials and an active internet connection. 
The Tally single-user license makes the tally account available for one user at a time. Whereas in Tally multi-user, 10 or more people can operate on the data at the same time. Continue reading the blog to understand how to connect tally remotely or Tally prime remote access in different ways.
Different Ways to Remotely Access Tally
Due to pandemic scenarios Work From Home policy has increased the demand to access the company files from remote locations. Also employees should have freedom and flexibility to work from home. This has increased the need to access Tally data from anywhere. Since accounting is majorly handled by Tally software.
Tallycloudhub provides its customer with the solution of Tally online access by hosting Tally services on cloud platforms. If you hold a valid Tally license, you can avail of Tally on cloud services and unlock the features of accessing tally remotely and many others.
Let us take a quick overview of different ways to remotely access Tally ERP. Which are recommended for Tally multi-users who want to work from home on common Tally data.
Traditionally Tally was operable on standalone systems or on LAN connections. This was a barrier to the organization's efficiency and productivity. It has opened room for virtualization. Tally Cloud allows you to work from home or from any location globally.

To use Tally Cloud through work from home or multi-locations, all you need is a valid Tally ERP license (silver/gold) and a stable internet connection. By hosting Tally online cloud accounting software is now available remotely. This is done with the help of RDP, Cloud, Citrix, etc.
With the help of the Tally Virtual User (TVU), online tally software can be accessed from remote locations. Online Tally work from home feature enables organizations to keep working even in difficult times including disasters and pandemics as well.  
Tally Virtual Access means employees can easily access the reports, invoices, and other data stored on company servers or data centers. Tally ERP or Tally Prime work from home can now be implemented on web browsers via remote access. 
Benefits of using Tally ERP 9 Remotely via Cloud computing:
The most beneficial feature of Cloud computing is that it makes the software ready to use. The need of configuring the software is reduced. This makes Tally ERP 9 remote access more easy and reliable for employees only concerned with accounting and not configuring the software.
• Anywhere, Any Tally ERP 9:
Tally ERP 9 on Cloud makes the company data available to you anywhere at any time. Your employee with a good internet connection can have access to data easily. It also enables employees to display accurate data and makes the availability of the latest details handy.
The only way to log in remotely into the Tally cloud to access company data is via valid login credentials. The email-ids used to purchase or activate the license are valid Tally.NET IDs that can be used to access company data from remote systems. 
Tally ERP provides you the complete control of the data. You can control the visibility & accessibility of data to all the Tally users of your organization. The security control in tally allows you to provide access to different features for multiple users. Remote accessibility of finance reports and statement becomes handy.
• 

Record or Alter Vouchers:
Users with an appropriate set of permissions can create or alter vouchers. Tally hosted on Cloud enables employees to generate invoices or place orders from anywhere at any time.
Remote auditing is only possible if you allow remote access of company data to your auditor. Once remote access is enabled, the auditor now has the access to reports, invoices, and other accounting documents. The only path to enter the system remotely is via Tally.NET ID. Auditor's ID is similar to your employee's ID but with extra privileges and accessibilities.
• 

Print Reports and Vouchers:
2. Tally on Mobile Application
• Tally Data can be accessed on cell phones.
• Tally on Mobile service enables you to work remotely without having any high-end device such as a laptop or desktop.
• It comes with a user-friendly interface, attractive report formats, and dashboards.
• Tallycloudhub is here to solve your queries about how to connect Tally ERP or Tally prime on mobile.
• We provide an adaptive and easy-to-learn interface and free demo trials for Tally on Cloud.
3. Tally ERP 9 Built-in Remote Access
Tally ERP 9 built-in remote access allows you to access company data at a remote location. This enables employees to complete transactions, print invoices at your client's location without any delay in the process.
This all can be achieved by having Tally ERP software installed on the company server with a high-speed internet connection and a valid tally license. With this users having valid credentials can log into the system successfully. This is another way of running Tally on a virtual environment.
Get Started with Remote Access
• The basic question now arises is how to connect tally remotely.
• The solution is by enabling remote access to your company.
• This can be done by connecting your company to Tally.NET.
• By connecting to Tally.NET you gain complete control over the activity of Tally ERP.
• You decide when to enable or disable remote access of company data to employees.
• Security control allows you to control the visibility and accessibility within the organization to avoid any inside threat from the employees.
Tally Remote Access Benefits
The three benefits of Tally remote access are:
Remote access provides complete security to company data. The remote desktop protocol (RDP) is followed by the Tally ERP 9 user access control feature. This allows you to keep a track of user activity, access user rights, and manage user privilege. This keeps the company data safe from any threats or malicious attacks.
The company data is stored on the cloud servers. Since the data is present on the cloud and available remotely, it allows users to have quick data access at any time.
Auditing is no longer restricted to physical presence. By providing remote access to your auditor auditing can be performed easily and remotely.
Tally on web feature allows you to view and access company reports at your fingertips. Tally Cloud provide centralized information when you or your multiple users use browser access to read reports or access your Company while working from home or any location.
Using Tally browser access via cloud give you Virtual Desktop Interface experience irrespective of which device or operating system you are using. Tally data can be accessed on Mac, iPad, Mobile, web browsers. Without the need to configure and update Tally software on laptops any business reports can be viewed on any web browser.
Tally web based tool eliminates the need to boot up your system just for having a look at the reports. You can easily access any reports now on web browsers at any time. The only requirement is a good internet connection and a valid user ID and password to enter the system. 
Available Reports with Tally on Browser
• The tally reports on web browsers make it easy for you to view reports, access data.
• Tally or Tally prime web access is developed and many more features are being added and released in the software regularly.
5. Tally on Remote Access Software
Tally can be accessed remotely by using various remote access software. This desktop control software gives you complete access to the Tally ERP software available on the remote system. The drawback of using this software is that only one user can operate on tally at a time it doesn't support multiple users.
Other than that remote systems should be kept switched on all the time for you to access them. Team viewer, Anydesk, Ammyyadmin are some software that can be used for remotely accessing Tally ERP software.
 6. VPN (Virtual Private Network)
• Using VPN is also a cost-effective way of hosting Tally online.
• The two possible way to use VPN is by extending the hardware firewall networks or setting up software VPNs.
• The advantage of using a VPN is that it allows direct LAN connection to the remote desktop which also enables you to use other software on the desktop as well.
• Make sure to ask your vendor to configure the remote users inside the office subnet so that you can have access to data as well as the Tally license.
So here you go with the 6 possible ways to use Tally online remotely. Hope these methods aid you in accessing the tally data required for your business more efficiently. On the other hand, here are some of the most Frequently asked questions(FAQs) to enhance your experience with Tally remotely. For the best Tally experience host your Tally on Cloud, for any detail visit Tallycloudhub.
How to enable & disable remote access for Tally Company?
The remote access of tally software can be enabled and disabled via the Tally portal. Open tally portal press Features(F11) and go to TSS features(F4). The option to enable and disable remote access will be visible.
What is the Connectivity Status report in Tally ERP?
The connectivity status report gives the company details connected for Tally.NET Services and Browser Access. The report is available only if at least one company is connected for either of the two services Browser Access or Tally.NET Services. The reports can be accessed by pressing F3 and selecting connectivity status reports in the Tally portal.