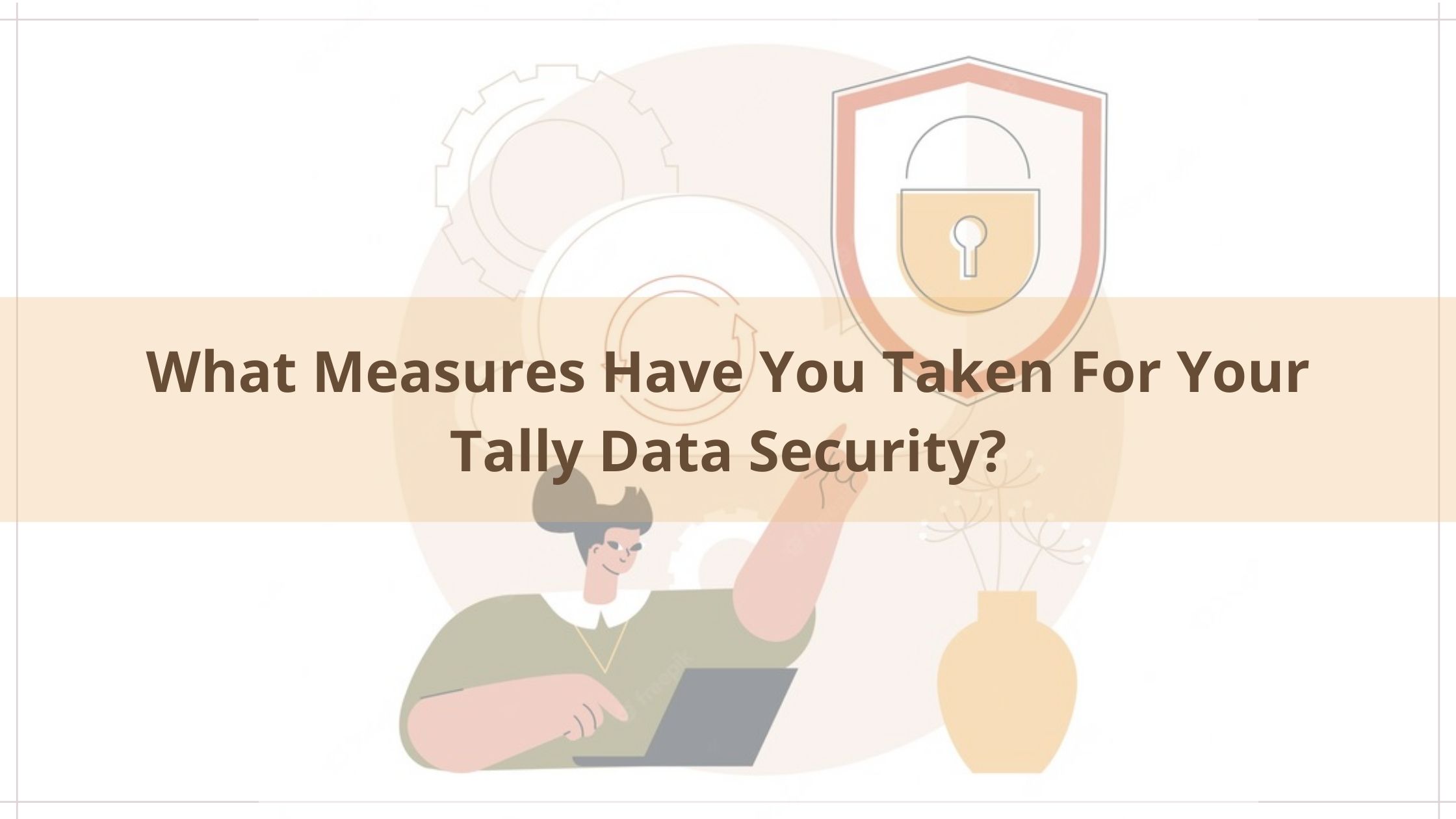 What Measures Have You Taken For Your Tally Data Security?
What Measures Have You Taken For Your Tally Data Security?
Losing the data or information you have stored on Tally from so long will not be lesser than any nightmare. There would be still a way to get back the whole data provided that you have taken earlier measures to protect and secure your tally data.
Tally ERP is becoming the most important source of data for any company or business. So, it provides high-security measures to keep your data safe.
How Tally Protects Your Data?
Every tally user needs to know how the

software 

is controlling and 

protecting 

your data. 

Encrypted transmission

, 

application access

, 

secure storage

, and 

connectivity 

are major ways that help your data to remain 

safe 

on Tally.

The software ensures that the

data transmission

 between different 

versions of tally 

is 

encrypted

 and 

decompressed

. Its triple data 

encryption algorithm 

achieves the purpose.

The software opens a

network 

open after a user requests a 

network service

. The software makes sure that your 

network port 

doesn't get accessed by any other party or 

system 

or software.

Along with the

transmitted data

, the 

stored 

data on 

Tally ERP9

 is encrypted and stored on 

disk 

using 

Tally vault

.
Ways To Activate Your Data Security
Tally provides a complete framework of security for authorization, authentication, and confidentiality of user data. The main measures that tally provides for securing your data which you should take into account are:
· Enable tally vault: A tally vault is a system that stores and secures your data with a password which only you can enter, edit or modify.
· Security levels: This is one of the useful security features which provides two options namely owner entry and data entry. The owner entry allows the owner to get access to all the features of the software except tally audit and company administration. Data entry gets limited access as per the requirements of the administrator. This ensures the tally remote access, i.e. users don't interfere in other tasks.
· Tally audit: Tally audit is carried out on the data stored in tally by tracking the changes that could affect the authenticity of the amendments made in data, ledger, amounts, etc.
· Data Backup: Tally server provides for creating the backup of your data which helps you to restore any of the lost data.
Easy And Secure Way To Access Your Tally Data
Tally being the most widely used software in the field of accounting and basic inventory management is available on every device except Macintosh. However, there are several tried and tested methods using which you can use tally on mac, namely the dual boot method, virtualization, cross-platform tools, Tally on Cloud.
Tally cloud service is the most secure innovation which enables you to run tally from other cloud servers. It provides an easy, efficient, economical and secure way to access tally from any operating system. In this process, the tally license and data get installed on a secure cloud system. You can get tally access using a remote desktop (RDP) client through a computer or any operating device.
With so many security features available, make sure that you implement the best ones to protect your tally data from getting hacked or deleted.
Check Out More Tally Related Blogs: